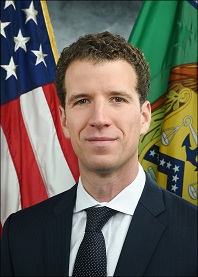 General Counsel
U.S. Department of the Treasury
Brian Callanan serves as General Counsel for the Department of the Treasury, where he provides legal and policy advice to the Secretary and other senior Treasury officials.  The General Counsel also serves as head of the Treasury Legal Division, a bureau comprising lawyers across the Treasury Department and its bureaus.
Mr. Callanan joined Treasury as Deputy General Counsel in 2017, and served as Acting General Counsel during a critical transition period. As a lawyer in private practice in Washington, D.C., he focused on appellate and regulatory litigation as well as government investigations.  Mr. Callanan also served in senior positions in the United States Senate, including as Staff Director and General Counsel of the Permanent Subcommittee on Investigations and as a senior advisor to Senator Rob Portman. 
A graduate of Harvard Law School and Claremont McKenna College, Mr. Callanan clerked for Judge A. Raymond Randolph of the U.S. Court of Appeals for the District of Columbia Circuit.