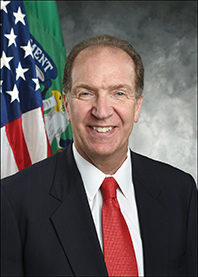 Under Secretary for International Affairs
U.S. Department of the Treasury
David R. Malpass is Under Secretary of the Treasury for International Affairs. He was sworn in on August 4, 2017.  
As Under Secretary, Mr. Malpass represents the United States in international settings, including the G-7 and G-20 Deputy Finance Ministerial, World Bank-IMF Spring and Annual Meetings, and meetings of the Financial Stability Board, the Organization for Economic Cooperation and Development, and the Overseas Private Investment Corporation.  He is the principal advisor to the Secretary on international economic issues and is responsible for managing policy experts across 20 offices within the Treasury Department.
In 2018, Mr. Malpass successfully advocated for the World Bank's capital increase as part of a larger reform agenda featuring improved monitoring and evaluation of World Bank lending, more efficient use of capital, and a focus on improving living standards in poor countries.  He was also instrumental in advancing the Debt Transparency Initiative, recently adopted by the World Bank and IMF, to increase public disclosure of international debts and thereby reduce the frequency and severity of crises in developing countries.       
Prior to becoming Under Secretary, Mr. Malpass was an international economist and founder of a macroeconomics research firm based in New York City.  Mr. Malpass served as chief economist of a large international financial institution and conducted financial analyses of countries around the world. He was a columnist for Forbes  and regular contributor to The Wall Street Journal. 
During the presidencies of Ronald Reagan and George H.W. Bush, Mr. Malpass served as Deputy Assistant Secretary of the Treasury for Developing Nations and Deputy Assistant Secretary of State for Latin American Economic Affairs, respectively.  In these roles, he focused on an array of economic, budget, and foreign policy issues, including the 1986 tax cut, the Latin American debt crisis, and the Administration's involvement in multilateral institutions, including the World Bank.  He also served as Senior Analyst for Taxes and Trade at the Senate Budget Committee, and as Staff Director of the Joint Economic Committee of the U.S. Congress.
Mr. Malpass has served on the boards of the Council of the Americas, Economic Club of New York, National Committee on U.S.–China Relations, Manhattan Institute, and Gary Klinsky Children's Centers, as well as various for-profit entities. 
Mr. Malpass earned his bachelors degree from Colorado College and his MBA from the University of Denver.  He undertook advanced graduate work in international economics at the School of Foreign Service at Georgetown University and has studied Spanish, Russian, and French.