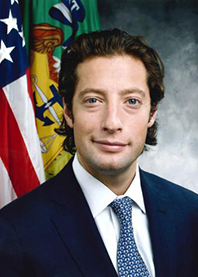 Chief of Staff
U.S. Department of the Treasury
As Chief of Staff, Eli Miller is responsible for managing the day-to-day operations of the Department generally and the Office of the Secretary specifically. In this capacity, the Chief of Staff operates in direct support of the Secretary. Mr. Miller plays a key role in advising, coordinating and reviewing policy development within the Department, other agencies, and the White House as well as assisting and planning the overall strategic direction of the Department.
Prior to his appointment as Chief of Staff, Mr. Miller served on the Presidential transition staff, leading Secretary Mnuchin's confirmation effort before the U.S. Senate. He was previously the Chief Operating Officer of Finance for Donald J. Trump for President, Inc. In that role, Mr. Miller developed and managed the campaign's finance process in conjunction with the Republican National Committee (RNC) and worked to help President Trump secure the White House. Earlier in his career, Mr. Miller was an aide to then-Speaker of the House of Representatives John Boehner. Mr. Miller resides in Washington, D.C. with his wife, Jenna, and sons, Henry and Nate.