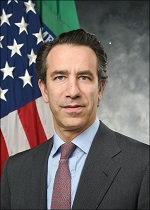 Deputy Secretary of the Treasury
U.S. Department of the Treasury
Justin Muzinich assumed office as Deputy Secretary of the Treasury on December 12, 2018, having been confirmed by the United States Senate a day earlier. Previously he served as Counselor to the Secretary, advising the Secretary on policy initiatives, including tax reform. Immediately prior to joining the Treasury Department, Mr. Muzinich was President of Muzinich & Co., an international investment firm, and taught at Columbia Business School. He holds a J.D. from Yale Law School where he was an Olin Fellow, an M.B.A. from Harvard Business School where he was a Baker Scholar, and a B.A. from Harvard College.