Human trafficking poses a grave threat to the rule of law and endangers the safety and security of citizens in the United States and around the world.  In addition to its enormous human cost, human trafficking is estimated to generate billions in illicit revenue each year, making it one of the most profitable crimes in the world. Treasury's 2020 National Strategy for Combating Terrorist and Other Illicit Financing identified money laundering linked to human trafficking as one of the most significant illicit finance threats facing the United States. 
Treasury's Role in combating Human Trafficking
Human trafficking is a transnational threat that preys on society's most vulnerable populations and poses significant harm to persons in every sector of the economy. The U.S. Department of the Treasury brings significant financial expertise to the fight against human trafficking and is committed to leveraging the Department's economic tools to target, disrupt, and counter those who undermine American values and engage in human trafficking.
View more information on U.S. Government and financial institutions' efforts to combat money laundering related to human trafficking and recommendations to improve those efforts.
Tools For Combating Human Trafficking
Treasury has various tools and offices to support the mission of combating human trafficking, including anti-money laundering (AML) and sanctions authorities. The Office of Terrorism and Financial Intelligence (TFI) integrates countering the financial operations of human trafficking networks into Treasury's strategy to safeguard the financial system and combat illicit threats. TFI, through the Office of Terrorist Financing and Financial Crimes (TFFC), the Financial Crimes Enforcement Network (FinCEN), the Office of Foreign Assets Control (OFAC), and the Office of Intelligence Analysis (OIA), coordinates with other Federal agencies, state and local law enforcement, and foreign governments to combat human trafficking.
Prevent
Multilateral Development Banks
Treasury has also committed to leading the fight against human trafficking at the Multilateral Development Banks (MDBs), and has been consistently introducing this issue into development conversation for several years. As a result, the MDBs are integrating anti-human trafficking provisions into their project development and social safeguards into their procurement processes.
On January 9, 2019, President Trump signed into law the Trafficking Victims Protection Reauthorization Act of 2017. The law requires the U.S. Executive Director of each multilateral development bank to work to develop anti-human trafficking provisions in their bank's project development, procurement, and evaluation policies.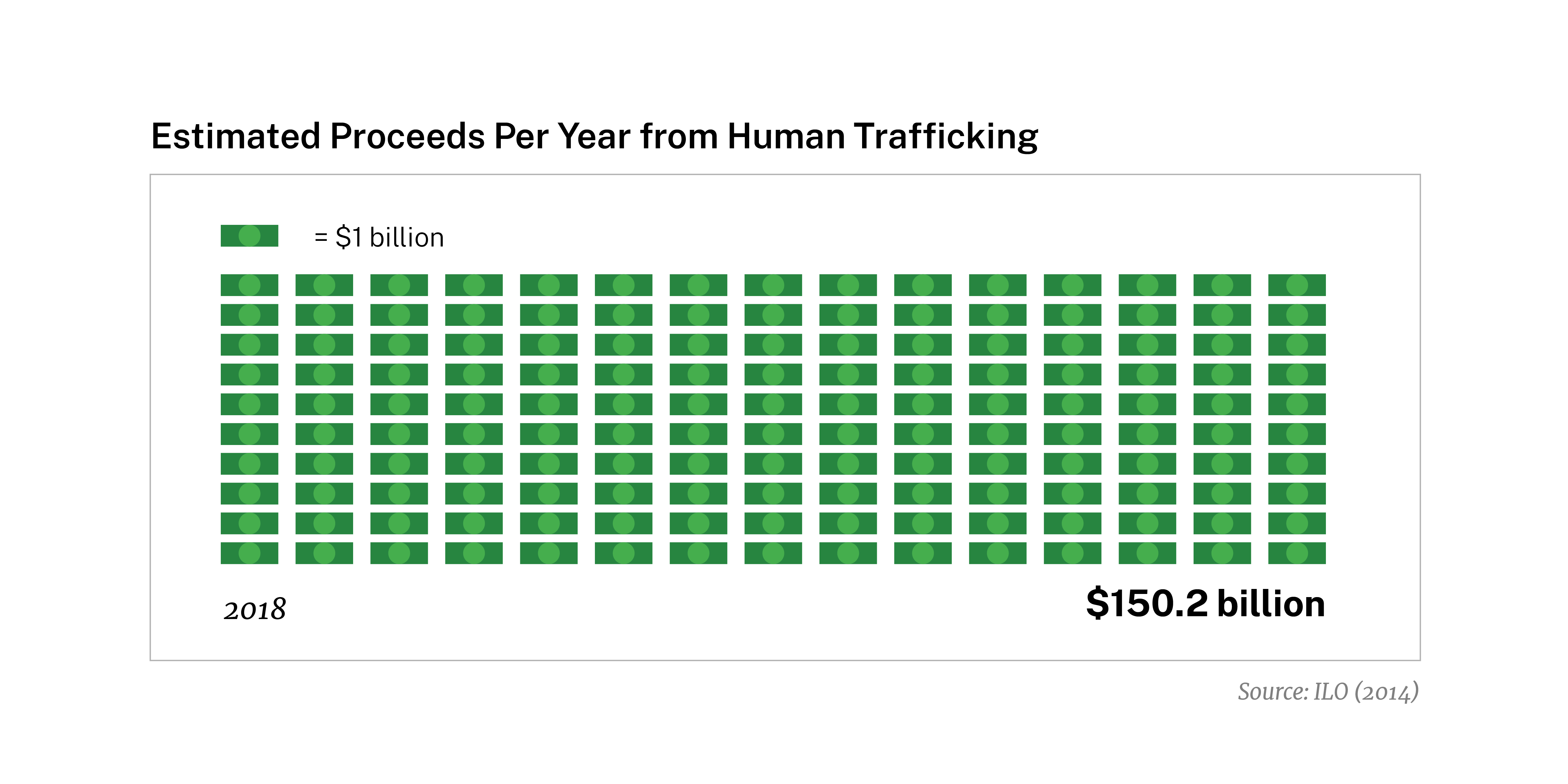 Protect
One challenge many survivors face is they lack "foundational" identity documents such as a birth certificate or driver's license, which are needed to access the global financial system. Treasury has been leading efforts to support a risk-based approach to the use of responsible digital identity solutions to help survivors of human trafficking to access the financial system.
Identifying Human Trafficking Networks
Treasury continues to identify and track the activities of human traffickers with data made available through Bank Secrecy Act reporting requirements and other sources. Treasury's FinCEN published an advisory on human trafficking to help financial institutions identify the movement of human traffickers' funds and to support law enforcement investigations that use financial intelligence.
In 2018, FinCEN updated its Suspicious Activity Report (SAR) form to include a checkbox for financial institutions to identify potential suspicious activity related to human trafficking. This update to the SAR form helps the financial industry report suspicious activity potentially tied to human trafficking in a more comprehensive way. The update also allows law enforcement to more easily identify potential perpetrators or enablers of human trafficking.
From August 1, 2018 to December 31, 2019, 6,672 Suspicious Activity Reports (SARs) have been filed by financial institutions reporting suspicious activities involving human trafficking.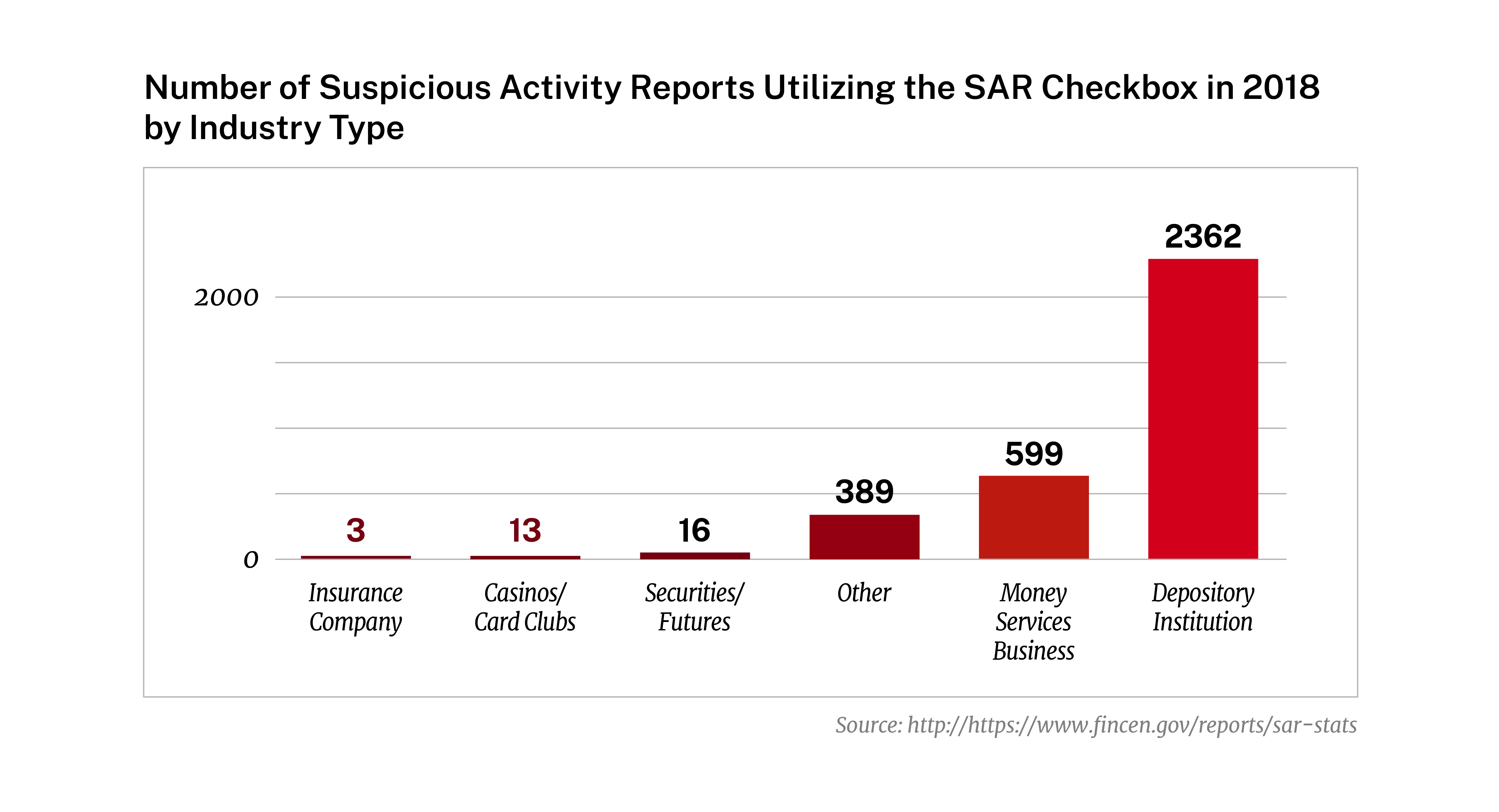 Prosecute
Treasury takes action against human traffickers wherever they may be—at home and abroad. TFFC develops policy, initiatives, and strategies to deploy its full range of financial authorities. OIA, FinCEN, OFAC, and the Internal Revenue Service (IRS) collect and analyze financial intelligence and data to identify human traffickers and their networks, disrupt and disable the financial underpinnings of these networks, and support law enforcement investigations that lead to accountability and justice.
Office of Foreign Assets Control
OFAC applies financial sanctions and oversees a range of sanctions programs that can target human trafficking, including several country programs focused on human rights and corruption. These programs also target activities that typically occur with human trafficking, including narcotics trafficking, human rights abuse and corruption, malicious cyber-enabled activities, terrorism, and transnational organized crime. As a result of U.S. financial sanctions, U.S. persons are generally prohibited from engaging in dealings with a blocked (or designated) person, and the designated person's property and interests in property are blocked.   
For example, on October 2, 2018, OFAC designated two companies and four individuals in Japan associated with the Yamaguchi-gumi, the largest and most prominent Japanese Yakuza syndicate. The Yakuza is known to profit from nearly all aspects of sexual exploitation: sex trafficking, sex tourism, prostitution, and "mail order" marriages. The Yakuza carries out this exploitation with the help of local crime syndicates in East Asia. Treasury will continue to hold accountable transnational criminal organizations like the Yamaguchi-gumi and local gang leaders who profit from sexual exploitation, and will disrupt their financial infrastructure as they attempt to access the global financial system through networks of front companies and individuals supporting them.
OFAC Press Releases:
Internal Revenue Service Criminal Investigation (IRS-CI)
The Internal Revenue Service's Criminal Investigation (IRS-CI) division is the law
enforcement arm of the IRS. IRS-CI partners with the Department of Justice, as well as federal, state, local, tribal, and foreign law enforcement to investigate labor trafficking and sex trafficking cases from a financial perspective. IRS-CI special agents and professional staff identify and trace the cash, electronic funds, virtual currency, real estate, and other assets generated by human trafficking in order to build criminal cases within their jurisdiction and potentially seize and ultimately forfeit those criminal proceeds, which may then be returned to the victims in the form of restitution.
IRS-CI collaborated in an investigation led by the Anti-Trafficking Coordination Team (ACTeam) in Oregon, which included IRS-CI , Homeland Security Investigations (HSI), the Federal Bureau of Investigations (FBI), the Diplomatic Security Service, and the Department of Labor Wage and Hour Division, resulted in the prosecution and sentencing for labor trafficking. The defendants fraudulently obtained investor visas to bring Thai nationals into the United States. Once the victims arrived, the defendants confiscated their passports and documents, exploited and coerced the victims' labor, and profited from this degrading crime.
Related News: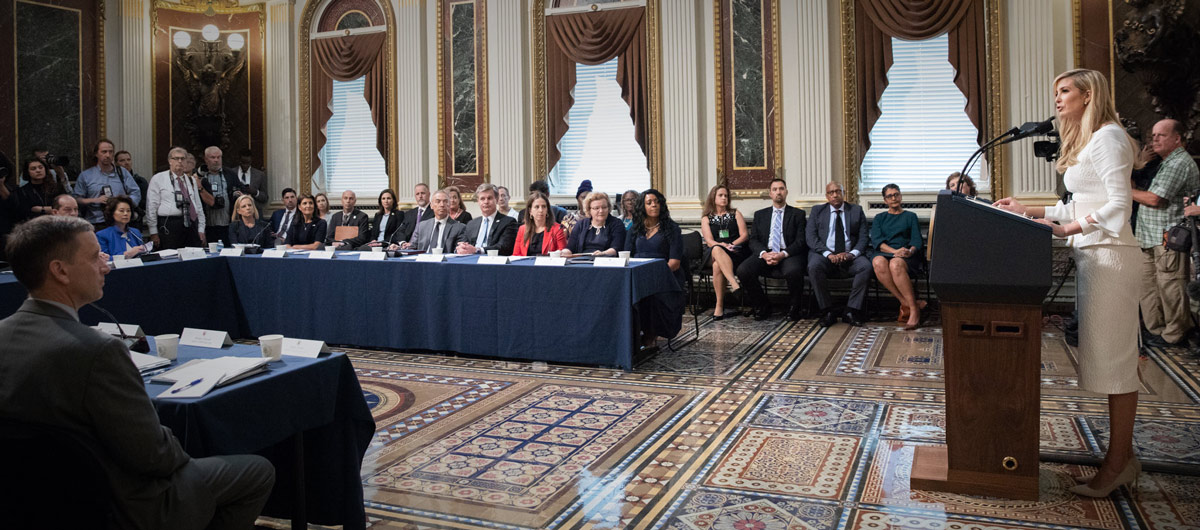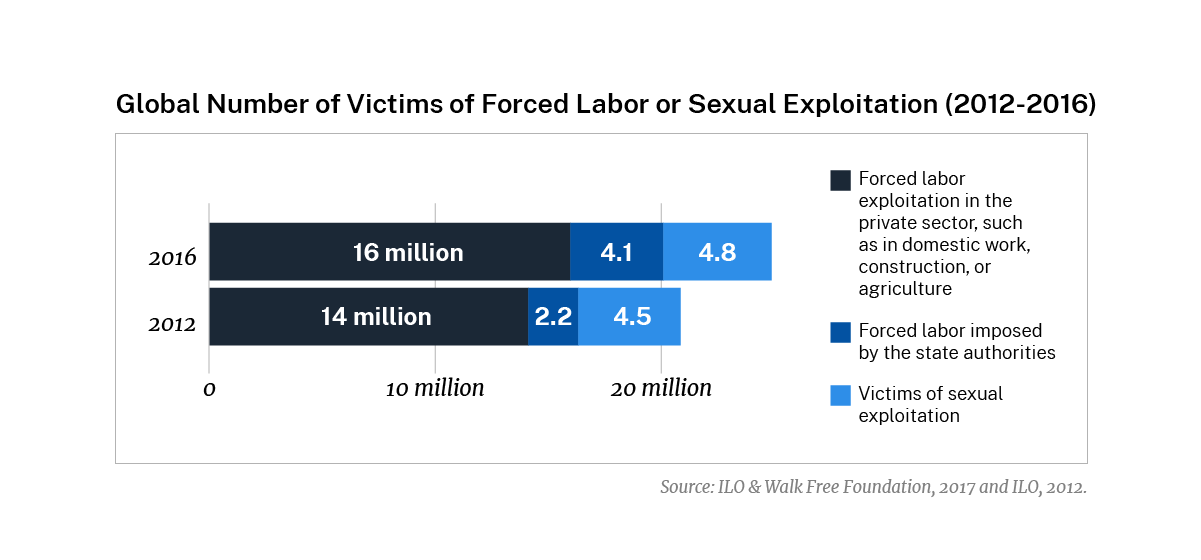 Partners
Partnership to Combat Human Rights Abuse and Corruption
Treasury has demonstrated its resolve to identify and hold accountable human rights abusers, facilitators of human trafficking, and corrupt actors who undermine peace, stability, and the rule of law. In December 2019, TFI hosted its inaugural Partnership to Combat Human Rights Abuse and Corruption event, bringing together over 100 NGOs, industry, and government partners to combat human rights abuse and corruption through enhanced information sharing and coordination on illicit finance and corruption networks. Treasury led a panel discussion on information sharing models with financial institutions and NGOs on combating human trafficking.
Remarks by Deputy Secretary Justin G. Muzinich The Partnership to Combat Human Rights Abuse and Corruption
"Treasury looks to NGOs to be our eyes on the ground both to track individual crimes and abuses and, more broadly, to understand when whole governments bear responsibility." –Deputy Secretary Justin Muzinich
Intergovernmental Forums
Treasury engages on an international level through intergovernmental forums such as the Financial Action Task Force (FATF), which sets global standards for AML/CFT, and the Egmont Group of Financial Intelligence Units (Egmont Group). Treasury participates in these forums to strengthen AML/CFT awareness and promote greater understanding of human trafficking, exchange information to identify and disrupt networks, and incorporate law enforcement and interagency partners into our efforts.
Treasury's TFFC heads the United States' delegations to the FATF and its nine regional bodies. TFFC collaborates with the FATF and its global network to raise awareness of this issue and encourage governments to adopt the good practices outlined in the FATF report on the Financial Flows Associated with Human Trafficking. These practices include enhancing public–private partnerships and mechanisms to utilize risk indicators aimed at identifying and targeting financial flows associated with human trafficking. Treasury also works through FATF's global network to promote the inclusion of human trafficking when countries are conducting their national risk assessments for money laundering and terrorist financing.
To complement TFFC's efforts at the FATF, FinCEN launched a human trafficking project with its global counterparts through the Egmont Group of Financial Intelligence Units to enhance bilateral information sharing and produce actionable information that can disrupt the financial movement related to human trafficking across borders. The Human Trafficking project team applied existing and new approaches, processes, and tools to strengthen the AML/CFT awareness and understanding of human trafficking, exchange information, and support interagency efforts.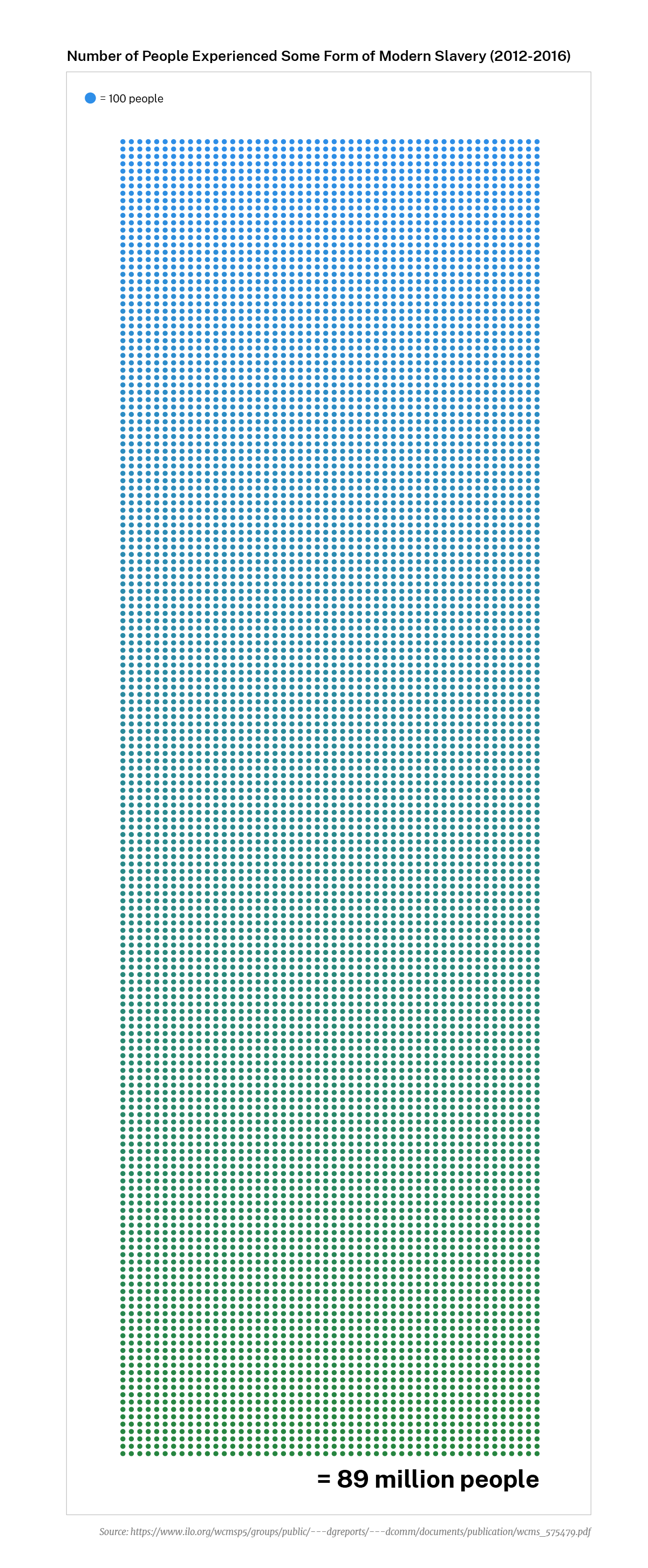 President's Interagency Task Force
The President's Interagency Task Force to Monitor and Combat Trafficking in Persons (PITF) is a cabinet-level entity created by the Trafficking Victims Protection Act of 2000 (TVPA). PITF includes 19 departments and agencies across the federal government, including the Department of the Treasury, that are responsible for coordinating U.S. government-wide efforts to combat trafficking in persons. The PITF meets annually and is chaired by the Secretary of State.
Within the PITF framework, the Senior Policy Operating Group (SPOG), which consists of senior officials designated as representatives of the PITF agencies, is dedicated to a multi-faceted response from every level of the U.S. government to ensure coordination of federal efforts to combat trafficking in persons.  TFFC leads Treasury's participation at the SPOG and coordinates efforts to raise awareness and educate stakeholders to help address this crime.
For example, TFFC conducts outreach to the financial services industry to identify and address the threats presented by illicit finance associated with human trafficking to the international financial system.