Established in October 2022, the Climate-related Financial Risk Advisory Committee (CFRAC) is the Financial Stability Oversight Council's first external advisory committee. The CFRAC assists the Council in gathering information on, conducting analysis of, and making recommendations to identify, assess, and mitigate climate-related risks to the financial system, consistent with the Council's purposes and duties under the Dodd-Frank Wall Street Reform and Consumer Protection Act.
"In establishing this committee, we will leverage the expertise of those outside of government and work collaboratively to improve our collective understanding of how climate change may impact the financial sector. The newly established advisory committee will also ensure that state and federal policymakers hear from leading experts on climate-related financial risks." – Secretary of the Treasury Janet L. Yellen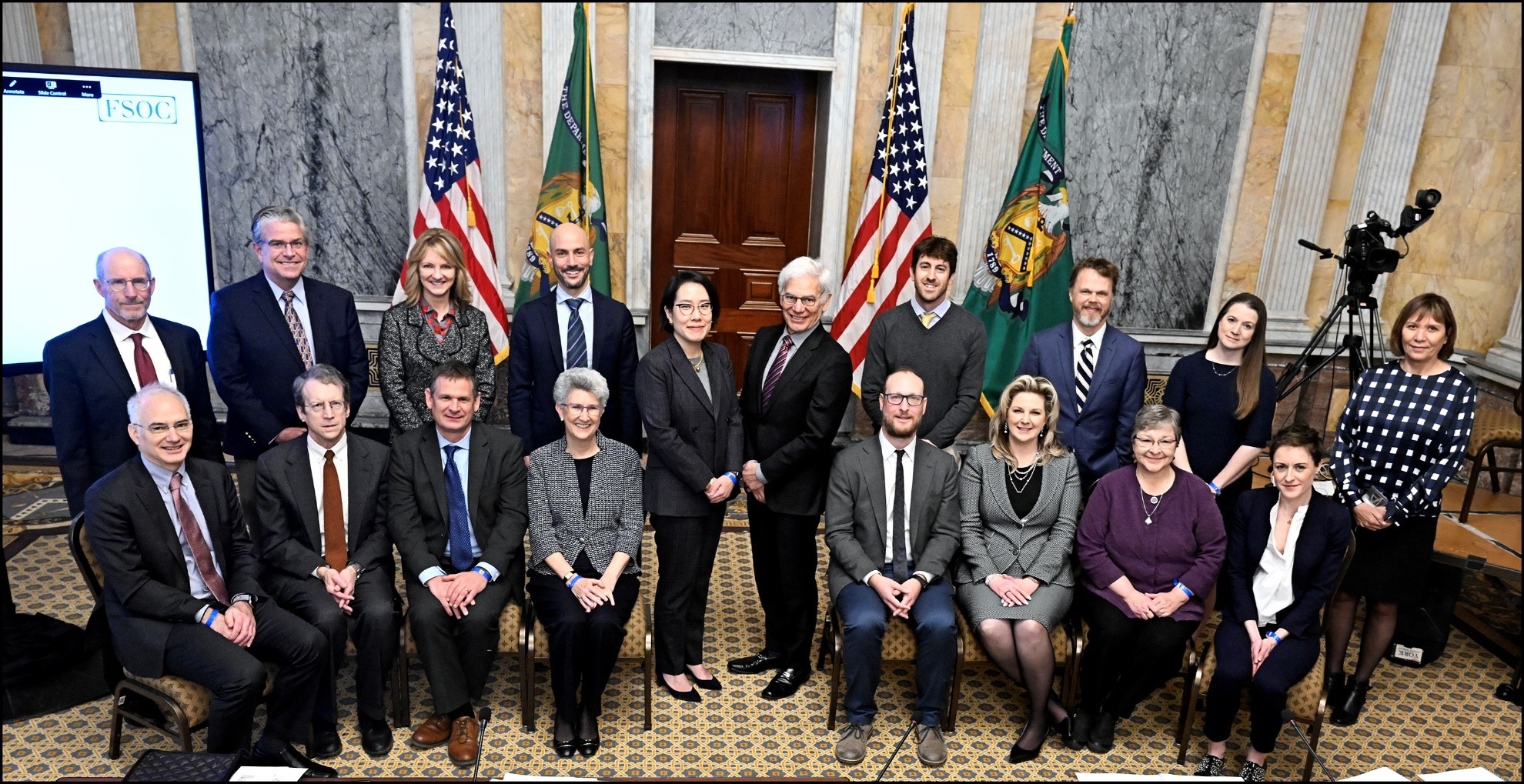 CFRAC Members at the first meeting of the CFRAC on March 7, 2023
Back row from left (standing): James Stock, Ed Kearns, Wendy Cromwell, Ilmi Granoff, Sandra Lee, Bob Litterman, Noah Kaufman, Allen Fawcett, Emily Grover-Kopec, Cecilia Martinez
Front row from left: William Pizer, Peter Wilcoxen, Ivan Frishberg, Janine Guillot, Michael Panfil, Julie Renderos, Karen Diver, Catherine Ansell
Not pictured: Laura Bakkensen, Viral Acharya, and Tracey Lewis
Members
Dr. Bob Litterman is a founding member of Kepos Capital and the current Chairman of the firm's risk committee. Prior to this role, Dr. Litterman was the head of the Quantitative Resources group for Goldman Sachs, where he oversaw risk management. In this role Dr. Litterman, together with Fischer Black, developed the Black-Litterman model for portfolio allocation. Dr. Litterman holds a Bachelor of Science in human biology from Stanford University and a Ph.D. in economics from the University of Minnesota.
Dr. Viral Acharya is an economist who served as the Deputy Governor of the Reserve Bank of India from January 2017 until July 2019. In this position he oversaw Monetary Policy, Financial Markets, and Financial Stability. Dr. Acharya has served as an academic advisor to the Federal Reserve Banks of Chicago, Cleveland, New York, and Philadelphia, as well as the Board of Governors of the Federal Reserve System. He holds a Bachelor of Technology in Computer Science and Engineering from IIT Bombay and a Ph.D. in Finance from the NYU Stern School of Business. Currently, he is a C.V. Starr Professor of Economics at the NYU Stern School of Business.
Dr. Catherine Ansell is the lead physical climate risk scientist for JP Morgan Chase. Dr. Ansell has extensive experience in modeling physical climate risk for both the banking and insurance sectors and recently was a contributing author for the NGFS Climate Scenarios for Central Banks and Supervisors. Previously, Dr. Ansell was a Financial Sector Specialist for the Crisis and Disaster Risk Finance Team at the World Bank Group, where she provided risk expertise on climate finance projects. Additionally, Dr. Ansell has served as a risk consultant for several private consulting firms. She holds a Master of Physics from the University of Oxford and Ph.D. in Atmospheric Physics from Imperial College London.
Dr. Laura Bakkensen is an Associate Professor at the School of Government and Public Policy at the University of Arizona and the Director of the School's MPA and MPP programs. Her research focuses on using econometric models to understand the economics of natural disasters, including identifying current risks and evidence for adaptation to damages. Previously, she was a visiting researcher at the Euro-Mediterranean Center for Climate Change in Venice, Italy and a Fulbright Teaching Grant recipient. Dr. Bakkensen has a Bachelor of Arts in Economics from Whitman College, a Master of Science in Environment and Development from the London School of Economics, a Master of Philosophy in Natural Environmental and Natural Resource Economics from Yale University, and a Ph.D. in Environmental and Natural Resource Economics from Yale University.
Wendy Cromwell is the Head of Sustainable Investment at Wellington Management. In this role, she sets the research agenda and strategy for the firm's sustainable investment practice, including for the firm's climate research initiative. Additionally, she serves on the Board of Directors for the UN-supported Principles for Responsible Investment, is a member of the Advisory Group for the Net Zero Asset Managers initiative and is a member of the ISSB Investor Advisory Group. She holds the CFA designation as well as a Bachelor of Business Administration summa cum laude from the University of Mississippi and an MBA from Vanderbilt University.
Karen Diver is currently serving as the inaugural Senior Advisor to the President for Native American Affairs at the University of Minnesota. In addition to previous roles in higher education, she was an appointee of President Obama as the Special Assistant to the President for Native American Affairs as part of the Domestic Policy Council from November 2015 until the end of the Administration. She served as Chairwoman of the Fond du Lac Band of Lake Superior Chippewa from 2007 to 2015. She has a Bachelor's in Economics from the University of Minnesota, Duluth, and a Master's in Public Administration from the Kennedy School of Government at Harvard University.
Ivan Frishberg is a Senior Vice President and Chief Sustainability Officer at Amalgamated Bank. In this role, he works with the Bank's Chief Risk Officer and the Chief Financial Officer on integrating sustainability and climate risk into the bank's processes and disclosures. Additionally, he is a member of the Steering Group for the UN-convened Net Zero Banking Alliance (NZBA) and a founder of the Partnership for Carbon Accounting Financials (PCAF). Previously, Mr. Frishberg was a senior advisor to the Climate Action Campaign and was the director of the State Climate Hub.
Ilmi Granoff is a Senior Fellow at the Sabin Center for Climate Change Law and Adjunct Research Scholar, Columbia Law School, and a Visiting Senior Fellow at the Grantham Research Institute at the London School of Economics. He is also a principal at the advisory firm Climate Technology Group and a Senior Advisor to the ClimateWorks Foundation, where he recently served as a Senior Director and established and led their Finance Program. Previously, he headed the Green Growth Business Unit at the Overseas Development Institute, served as the Special Counsel for Climate and Environment at the African Development Bank, practiced law in the global energy and infrastructure group at Freshfields, and worked at the United Nations Development Program. He holds a J.D. from New York University School of Law, Master's degrees in international relations and environmental science from Yale University, and a B.A. from Swarthmore College.
Emily Grover-Kopec is a Director in the Energy and Climate Practice at the Rhodium Group. She currently focuses on applying climate economics to drive climate change mitigation and adaptation in the non-profit and policy space through Rhodium Group's partnership with the Climate Impact Lab. Previously, she led the establishment of Rhodium's physical climate risk modeling products and services for the financial industry. Prior to joining Rhodium Group, she was a Vice President of Model Solutions at the catastrophe modeling firm Risk Management Solutions (RMS). Over 12 years at RMS, she held a number of different roles, including leading its U.S.-based consulting organization, overseeing its business with reinsurance brokers, and developing strategic R&D partnerships within the insurance industry. She also brings experience from Columbia University's International Research Institute for Climate and Society, where she developed climate monitoring tools for use in developing countries. She holds a Bachelor of Science in Atmospheric, Ocean, and Space Sciences from the University of Michigan and a Master of Science in Meteorology from Pennsylvania State University.
Janine Guillot is an experienced financial services leader and expert on sustainability disclosure, serving on the Board of Directors of Equilibrium Capital, B Lab Global and the International Foundation for Valuing Impacts. Prior to that, she served as Special Advisor to the Chair of the International Sustainability Standards Board (ISSB), and as CEO of the Sustainability Accounting Standards Board (SASB) Foundation. In recognition for leadership at the intersection of sustainability, accounting and finance, she was selected as a 2020 and 2021 NACD Directorship 100 Honoree and named to the 2020 Business Insider's 100 People Transforming Business list. She has a B.B.A. in Accounting from Southern Methodist University.
Dr. Noah Kaufman is an economist and research scholar at the Center on Global Energy Policy at Columbia University. His research focuses on the economics of climate change policies. Under President Biden, he served as a Senior Economist at the Council of Economic Advisers. Under President Obama, he served as the Deputy Associate Director of Energy & Climate Change at the White House Council on Environmental Quality. At the World Resource Institute, he led projects on carbon pricing, the economic impacts of climate policies, and long-term decarbonization strategies. Previously, he was a Senior Consultant in the Environment Practice of NERA Economic Consulting. He received his BS in economics from Duke University, and his PhD and MS in economics from the University of Texas at Austin.
Dr. Ed Kearns is the Chief Data Officer for the First Street Foundation, where he leads the development of climate risk data products. Previously, he was the interim Chief Officer for the Department of Commerce and NOAA's first Chief Data Officer. In these roles, he oversaw the maintenance of all Department of Commerce's datasets and led NOAA's Big Data Project. Dr. Kearns holds a Bachelor of Science in marine science from the University of Miami and a Ph.D. in physical oceanography from the University of Rhode Island.
Tracey Lewis is a Policy Counsel in the Climate & Energy Group at Public Citizen. In this role, she advocates for financial regulators and federal legislators to address the financial risks associated with climate change. Prior to this role, she was the senior climate risk policy analyst for 350.org, where she engaged members of Congress on climate policy, while also researching climate-related risk to communities covered by the Justice40 initiative. Additionally, she was the Policy Director for a delegate in the Maryland General Assembly, where she contributed to legislative drafting and research for the office. She holds a Bachelor of Arts in English Literature from Spelman College and a J.D. with a concentration in EU Law from Vermont Law School and is a member of the Climate & Community Project, where she works on state-based climate policy solutions for frontline communities.
Dr. Cecilia Martinez is the Chief of Environmental and Climate Justice at the Bezos Earth Fund. She previously worked as the Senior Director for Environmental Justice at the White House Council on Environmental Quality in the Biden Administration. In this role, she helped to establish a whole of government approach to equitable climate and environmental policy. Before this, Cecilia served as the Executive Director of the Center for Earth, Energy and Democracy, where she helped launch several climate equity initiatives. She has directed numerous projects at the local, state, and national levels. She received her B.S. from Stanford University, MPA from New Mexico State University, and Ph.D. from the University of Delaware.
Michael Panfil is the Lead Counsel and Director of Climate Risk Strategies at the Environmental Defense Fund, where he oversees the organization's efforts on climate risk and financial regulation. His work focuses on activities designed to address climate risk and in support of a sound financial system, engaging before financial regulators and federal courts across the country to advance durable solutions and sustainable practices. He is also a Scholar in Residence at American University's Washington College of Law. In addition, he holds appointments with Wharton, the American Bar Association, the Initiative on Climate Risk and Resilience Law, and Howard University.
Dr. William Pizer is Vice President for Research and Policy Engagement at Resources for the Future. Previously, he was the Susan B. King Professor at Duke University's Sanford School of Public Policy. He is currently a member of the NASEM Committee on Accelerating Decarbonization in the United States and is co-leading work on recommendations for the financial sector. From 2008 to 2011, he was Deputy Assistant Secretary for Environment and Energy at the U.S. Department of the Treasury. He holds a Ph.D. and Master of Arts in economics from Harvard University and Bachelor of Science in physics from the University of North Carolina at Chapel Hill.
Julie Renderos is the Executive Vice President and Chief Financial Officer of Suncoast Credit Union, a $15 billion credit union headquartered in Tampa, Florida. In her current role, she oversees the financial strength of Suncoast by ensuring that the credit union remains financially strong, maintains an enterprise risk management program, and provides reliable and secure systems to keep members' information safe. She holds a Bachelor of Business Administration from the University of Michigan, an MBA from the University of South Florida, and is licensed in the state of Florida as a Certified Public Accountant.
James H. Stock is Harvard's Vice Provost for Climate and Sustainability and is a professor in both the Harvard Economics Department and the Harvard Kennedy School. His current research includes energy and environmental economics with a focus on fuels, U.S. climate change policy, and macroeconomics. In 2013-2014 he was Member of President Obama's Council of Economic Advisers, where his portfolio included macroeconomics and energy and environmental policy. He is a co-editor of the Brookings Papers on Economic Activity and a co-author on a leading undergraduate econometrics textbook. He holds a Ph.D. in economics and Master of Arts in statistics from the University of California Berkeley.
Peter J. Wilcoxen is the Ajello Professor of Energy and Environmental Policy at Syracuse University, a Nonresident Senior Fellow at the Brookings Institution, and a Fellow of the National Academy of Public Administration. He served on EPA's Chartered Science Advisory Board for seven years and was also a member of EPA's Environmental Economics Advisory Committee and a Review Editor for the Intergovernmental Panel on Climate Change. His work focuses on general equilibrium modeling of environmental and climate change policy, and he has published more than 70 papers and co-authored three books. Prior to Syracuse, he taught at the University of Texas at Austin.
GOVERNMENT OBSERVER
Dr. Allen Fawcett is the Chief of the Climate Economics Branch at the EPA. At the EPA, Dr. Fawcett performs climate economic analysis and communicates the results to decision makers. Examples of this work include his collaboration with the State Department on a climate analysis ahead of the 2015 Paris Negotiations. Previously, Dr. Fawcett served as the Deputy Associate Director for Energy and Climate for the White House Council on Environmental Quality. He holds a Bachelor of Arts in economics from the College of William and Mary, a Master of Science in economics from the University of Texas at Austin, and a Ph.D. in economics from the University of Texas at Austin.
RESOURCES
Press Release Announcing Establishment of CFRAC