The Centers of Excellence (COE) Research Grants Program provides funds to the five Gulf Coast States that in turn award competitive subawards to nongovernmental entities and consortia in the Region, including institutions of higher education.
The Act limits the areas of research that may be conducted with COE funds to five disciplines, three of which are climate-related:
Coastal and deltaic sustainability, restoration, and protection;
Coastal fisheries and wildlife ecosystem research and monitoring; and
Comprehensive observation, monitoring, and mapping of the Gulf of Mexico.
While each COE-funded Center sets its own research priorities, all five states receiving COE funds have indicated that they will fund research in all three of these three climate-related disciplines. To date, over 70 research projects have been funded through the program, many of them with important implications for assessing, mitigating, and managing climate risks in the region.
Examples of RESTORE COE-Funded Research to Assess or Adapt to Climate Risks
Alabama: An Integrated Approach to Addressing Climate Change
RESTORE-funded research priorities:  Dauphin Island Sea Lab (DISL) is the home for Alabama's Center of Excellence (ALCoE). The ALCoE builds upon the network of experts from the Marine Environmental Sciences Consortium (MESC), the Mobile Bay National Estuary Program (MBNEP), and the Mississippi-Alabama Sea Grant Consortium (MASGC). Alabama's Center of Excellence will coordinate research that investigates the effects of multiple environmental stressors, including climate change, on the future health of the northern Gulf Coast and its wildlife and ecosystems. Alabama has selected their first set of 10 research projects funded under its Centers of Excellence program. The research will address a range of issues with a direct link to the changing climate, including:
Hypoxia on the Alabama shelf: Researchers will develop maps of dissolved oxygen levels to better understand the relationship between dissolved oxygen levels and current and future stressors to ecosystems of the Alabama shelf.
Oyster growth under a changing climate: Researchers will examine the potential impacts of different estimates of future ocean acidification due to increased carbon dioxide concentrations, and ocean warming on oyster populations.
Manatee distribution patterns and habitats: Researchers will study the potential impact of various future climate scenarios on manatee habitats in the Gulf and what this may mean for the future distribution and seasonal migration of manatee populations.
Mobile-Tensaw-Apalachee (MTA) River Delta changes: Researchers will study wetlands in the delta to predict the impact of future sea level rise and changes in freshwater flows on the MTA delta.
Groundwater quantity and quality for coastal resilience: Investigators will study how climate change (e.g., expected changes in precipitation, flooding, and the frequency and severity of extreme weather events) and sea level rise will impact freshwater resources in the coastal area.
In addition to the research, RESTORE-funded upgrades to DISL's wet lab facilities will include the installation and maintenance of equipment that can mimic changes in chemical and physical properties of the water column including pH, temperature, and oxygen saturation.  Repair, maintenance, and modernization of Alabama's Real-Time Coastal Observatory System (ARCOS) will also be partially funded.

RESTORE funding: $7,964,464 funds these first 10 ALCOE projects and the associated upgrades to wet lab facilities to support these experiments.
 
Photos (left to right): 1) Example of wet lab equipment and tank to conduct multi-stressor experiments and 2) Hurricane Sally damage to the facility that will house the wet lab upgrades. Photos provided by the Alabama Center of Excellence.
Louisiana: Environmental Justice & Climate Change Adaptation
From Adapting in Place to Adaptive Migration: Designing and Facilitating an Equitable Relocation Strategy

RESTORE-funded research: Louisiana's Treasury RESTORE Act-funded Center of Excellence, The Water Institute of the Gulf, is researching public attitudes towards possible equitable relocation initiatives and the implications for public policy.

As residents of coastal communities in Louisiana and elsewhere respond to increased flooding and storm intensity due to sea level rise, coastal erosion, and subsidence, relocation will become an increasingly important adaptation option. This project responds to the need for effective programs that help people and communities on the frontline of environmental change move away from high-risk areas if and when they decide to move. It draws on semi-structured interviews conducted between 2018 and 2020 with 29 local officials and community leaders, as well as 58 current or former residents of coastal communities in Terrebonne Parish. Although the researchers did not specifically ask the individuals interviewed about their race or ethnicity, 14 residents (24%) self-identified as tribal members and 8 (14%) self-identified as African-American. Many others self-identified as Cajun.

These individuals were a representative cross-section of the. coastal communities of Terrebonne Parish, which tend to be lower income and/or communities of color; according to the latest U.S. Census Bureau data, over 6 percent of Terrebonne Parish residents are Native American. These frontline communities are often the first and worst impacted by climate disruptions and have fewer resources to prepare for, adapt to and recover from the effects of extreme weather events and ongoing environmental change.  Many of these communities were devastated by Hurricane Ida in 2021.

Resident interviews illustrated how households are adapting, including how they make decisions about whether to stay or relocate, and the impediments to the widespread use of buyout and relocation programs. Interviews with local officials and community leaders focused on strategies to address coastal vulnerability as well as priority planning and policy interventions.
Additionally, researchers analyzed buyout and relocation programs in the U.S. to identify useful lessons, promising practices, and pitfalls to avoid during the relocation process. The study's findings will be used to develop recommendations to inform adaptation policy that moves beyond merely acquiring at-risk properties and leads to equitable outcomes for communities and residents on the front lines of the climate crisis.

Principal Investigator: Marla Nelson, Professor, Planning and Urban Studies, University of New Orleans
Co-Investigators: Renia Ehrenfeucht, University of New Mexico; Traci Birch, Louisiana State University; Anna Brand, University of California Berkeley
RESTORE funding: $295,338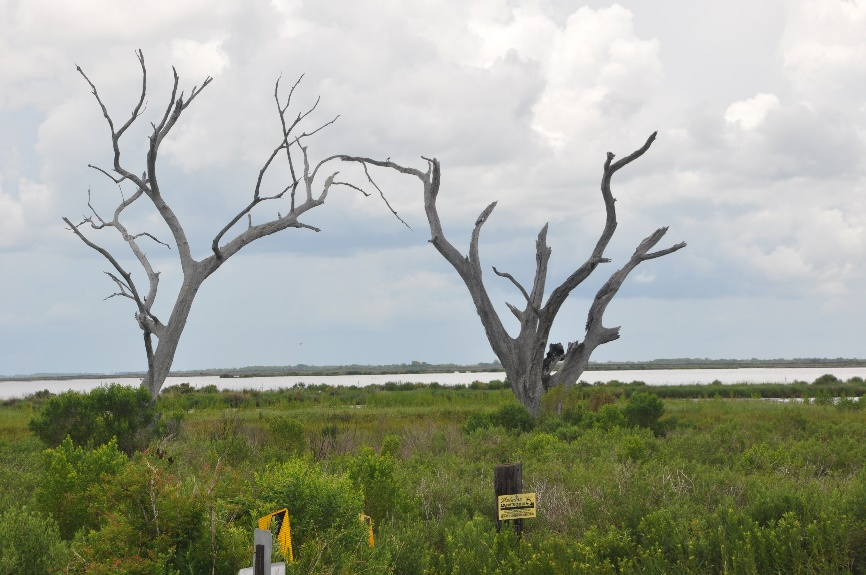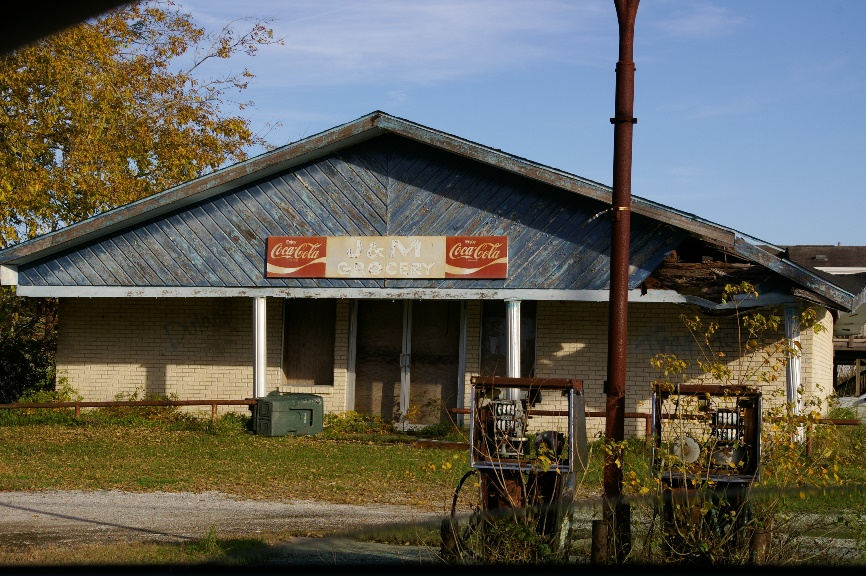 Images (top to bottom): 1) Pointe-aux-Chenes, 2) Saltwater intrusion tree destruction Pointe-aux-Chenes, and 3) a closed business in Terrebonne Parish. Photos from Terrebonne Parish provided by the researchers.