It is important that homeowners seeking assistance have a clear understanding of what to expect from HAF programs, especially if a program has temporarily stopped accepting applications.
Important principles to keep in mind
Applicants and homeowners seeking assistance should have easy access to up-to-date and clear information about their application status and ability to apply to the HAF program.
On-demand status updates about an application through a web portal paired with regular direct communication with applicants can help put homeowners at ease.
Homeowners seeking assistance should be able to easily navigate an up-to-date HAF program website that clearly states the program's offerings, what types of assistance applicants can expect, and if the program is currently accepting applications.
If your HAF program has paused or permanently stopped accepting applications, clearly provide information on your website and other outreach materials information about whether the application process may be reopened and what applicants can expect in the meantime. Also, consider providing links to resources that can provide related assistance in the meantime, such as other assistance programs, housing counseling support, or legal aid support.
Publicly share regularly updated information through an online dashboard to track and communicate HAF program progress, including the number of applications received and total funds distributed.
What to include on your HAF website
Summary
Start with a summary or overview addressing the basic who, what, when, where, why, and how of the program. This section should be brief and highlight the most relevant parts of the program with the details and specifics to be more fully described in the separate sections below.
Who the program is for and communicate program eligibility through interactive means such as videos and prequalification questionnaires
What types of assistance are currently available
When are applications being accepted or when applications will be accepted
Where and how a homeowner can apply, what they should expect next, where to get help with their application, and how to check the status of an application that has already been filed
How a homeowner can get assistance by submitting an application either online, in person using a physical form, or receive assistance to complete the application due to limited access to internet or other barriers such as disability or limited English proficiency
Why the program was created
How the program works
WHEN AND WHERE APPLICATIONS ARE BEING ACCEPTED
Be clear whether applications are or are not currently being accepted. If applications are not currently being accepted, state when the program will begin, reopen, or if the program accepts applications in cycles. If the program is paused or closed, direct applicants to other programs they may be eligible for in the interim.
When not accepting applications, provide helpful information and next steps:
Do not
Do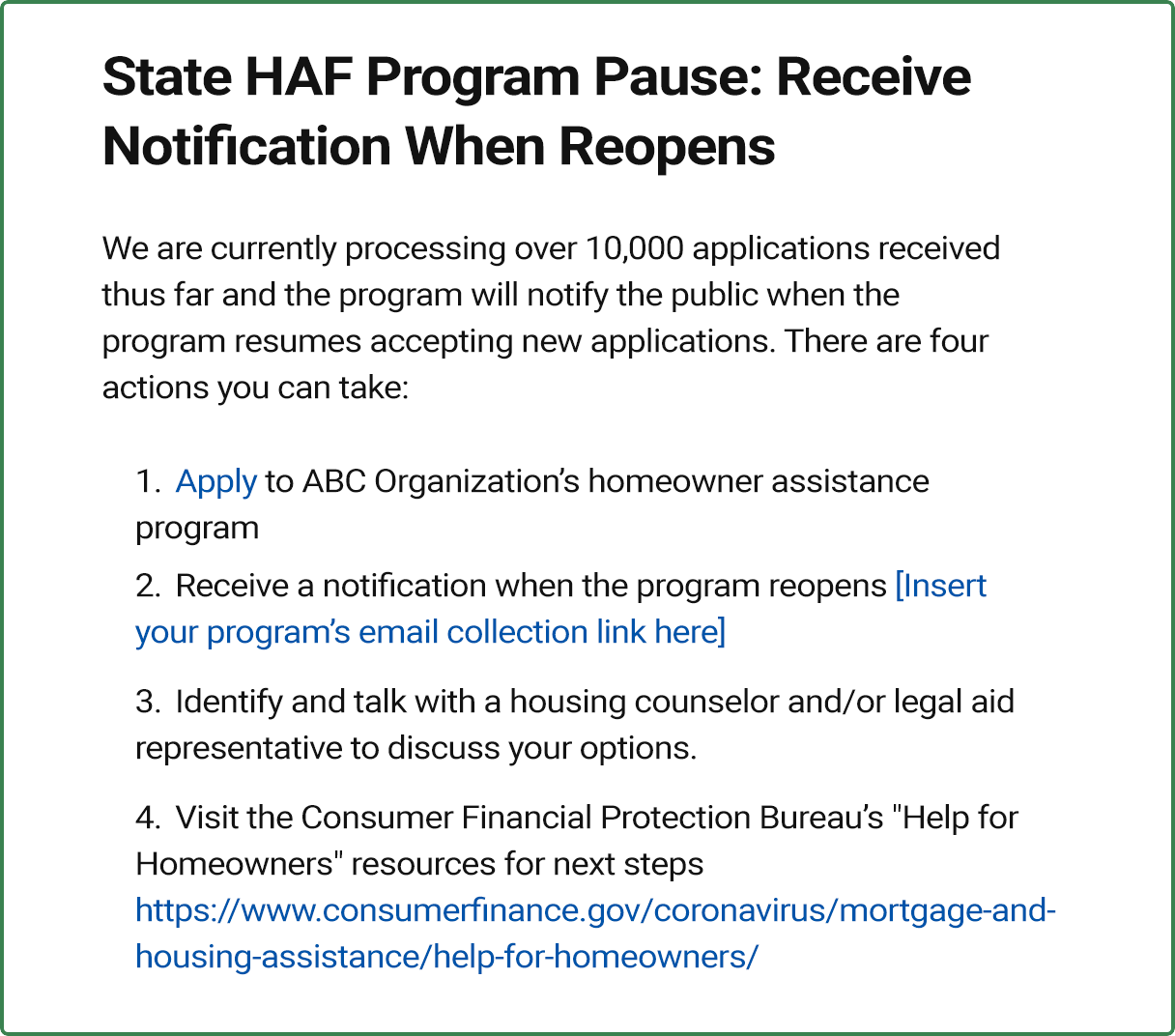 WHAT TO EXPECT NEXT
In this section provide the following information:
The timeline for when applications will be processed
How you will prioritize or work through applications
When applicants should expect to hear from you next
When applicants should expect to receive assistance
How applicants can track the status of their applications
WHERE TO GET HELP
In this section, detail methods for providing applicants with help creating or tracking an application. Some potential avenues include:
A central email account for application support questions
Numbers for phone or text inquiries
In-person help centers
Provide instructions on how to obtain and submit a hard-copy application
Provide contact information to a call center or customer service line for a homeowner to escalate concerns, receive application support, and dispute a denial of support.
WHAT TYPES OF ASSISTANCE ARE AVAILABLE
Discuss the types of assistance available to homeowners including any important limitations regarding the amount of assistance that can be offered.
For example:
Homeowner Assistance Funds can cover arrears accrued on or after January 21, 2020.
This State HAF program has established a maximum amount of $[amount] total assistance a homeowner may receive.
Explain how your program will address the following:
Current mortgages
Mortgages in forbearance
Mortgages at risk of foreclosure
Mortgages in foreclosure
Utilities and home energy costs
Utilities and home energy cost arrears
Homeowners Association fees
Delinquent property taxes
Insurance fees
Home repair costs
HOW ASSISTANCE HAS BEEN PROCESSED AND DISBURSED STATEWIDE
Share information publicly on a regularly updated dashboard indicating how many applications have been received, in process, and completed as well as how the HAF program has disbursed its funds across demographic, geographic, and financial-product categories. By providing real-time transparency, homeowners and key stakeholders can gain a greater understanding and appreciation for the impact the HAF program has in the state.
Regular updates can help advocates and other partners increase interest and elevate the need to support the HAF program to provide additional resources and even referral opportunities for homeowners. Details in dashboard design, such as time-stamping dashboards and providing a variety of datapoints, can enhance the value of these resources for stakeholders.
Examples of HAF participant program dashboards1
https://haf.azhousing.gov/dashboard

https://kshousingcorp.org/wp-content/uploads/2022/08/KHAF_County-Metrics-080522.pdf

https://www.mass.gov/info-details/homeowner-assistance-fund-haf

https://homehelpmn.org/dashboard/

https://pahaf.org/program-dashboard/
Examples of HAF participant program web sites
We've provided a few examples here of state government web sites that follow some of the best practices detailed above. We hope you'll find these as useful reference points.2
https://mortgageassistanceal.com/

Arizona Housing Assistance Program

https://haf.azhousing.gov/

Arkansas Homeowner Assistance Fund

https://camortgagerelief.org/

https://www.chfa.org/myhomect/
---
1 The National Council of State Housing Agencies maintains links to available state dashboards: Homeowner Assistance Fund — NCSHA
2 The program information provided herein is intended solely to illuminate "guidelines" that HAF participants might consider when developing their jurisdiction's program policies and infrastructure. All such policy development must proceed in accordance with the governing legal authorities and published policy guidance. Nothing herein should be construed as (i) altering these requirements or (ii) confirming that any specific HAF participant's program policies or administrative practices have been fully reviewed and found compliant.