Considerations for good program design and delivery
Grantees should make decisions about their program based of the intersection of these different factors:
Grantee Business Needs: Resources, skills, and operations must have to run, to serve effectively, and manage their budgets.
Social and Political Landscape: The general situation or attitude held by the community or stakeholders that will determine the reaction to decisions or changes.
Grantee and Partner Capacity: The bandwidth the grantee organization to meet future demand and how it might impact the organization and community.
Community Needs (tenants and landlords): Governments have to actively reach out to understand the needs of some of the public, including some of the most historically marginalized communities and those in crisis.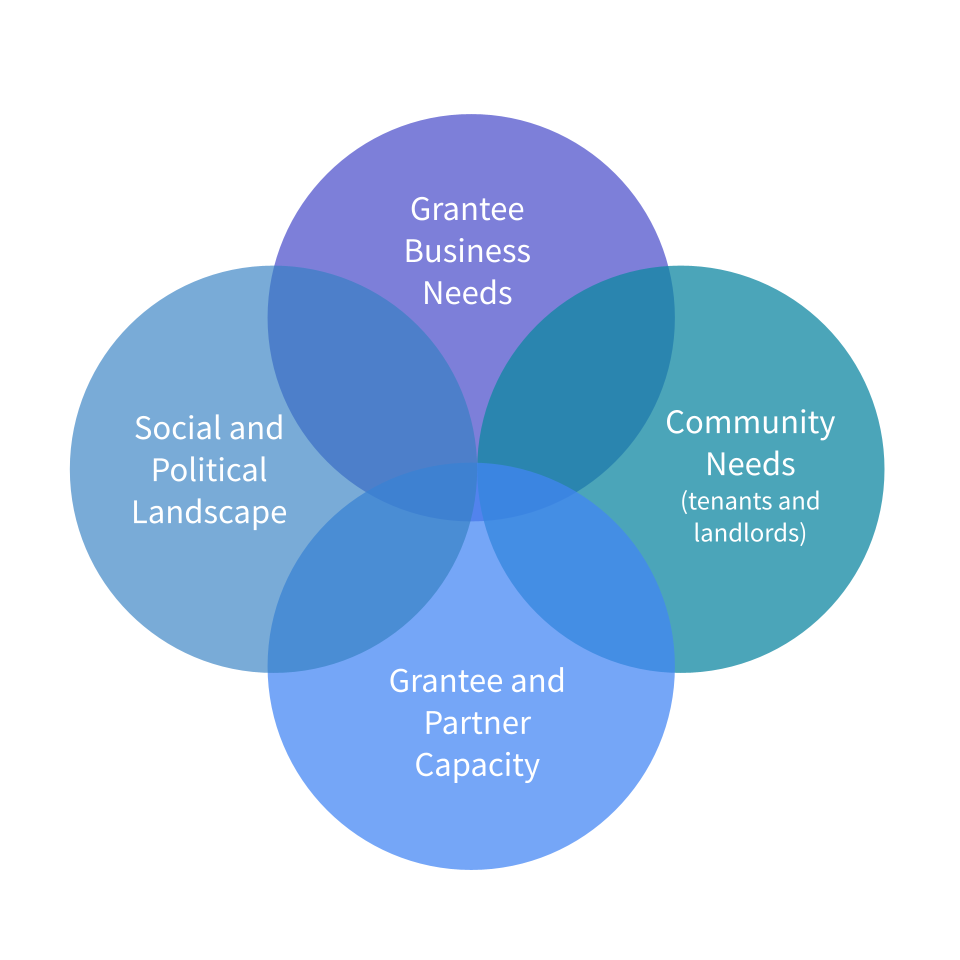 Considerations for good service design and delivery
Grantees are expected to provide the service of rental assistance to tenants and landlords. That service is made up of a series of interactions that tenants and landlords have in seeking assistance. A service design approach looks at the end-to-end process and the tasks that shape those interactions even if they are spread across different parts of your program or local government. Central to service design is taking a human-centered approach which puts the human at the center of crafting your service in order to better meet community needs.
Taking a human-centered approach
Human-centered design is an approach that can help grantees better understand the needs of tenants and landlords, thus creating a more impactful ERA program. The approach provides methods that put the public at the center of decision-making, design, and implementation of services. It is a creative problem-solving process that includes community members and emphasizes a much deeper understanding of their needs in order to arrive at solutions that truly reflect the community's needs and solves for root problems.
Human-centered design is grounded in values: accessibility, equity and usability. These are the values that should be driving and shaping grantee's ERA program.
Values
Values are the cornerstones for how to shape the ERA program. They reinforce what is important, create a unified purpose and guide the behaviors and approaches in how we deliver ERA programs.
Accessibility
Section 508 of the Rehabilitation Act of 1973 states that federal agencies must give disabled employees and members of the public access to and use of information and data that is comparable to the access and use of information and data available to employees and members of the public that are not disabled. Therefore, we expect grantees to do the same for their Emergency Rental Assistance (ERA) program materials and services, including the ERA applications, which should be accessible to all.
Create applications and services that are accessible to all people, regardless of disability or other factors.
Design applications for the spectrum of disabilities, because disabilities can be permanent (e.g., chronic health condition), temporary (e.g., broken arm), or situational (e.g., being in a noisy environment).
The accessibility of an application pertains to the visual design/layout, language used, the applicant/product interaction, and more.
Local ERA programs with targeted outreach are a key component for making ERA applications accessible.
Equity
ERA applications and programs should be designed with an understanding of the realities of communities. We are missing an opportunity to really meet community needs when this does not happen, and the continued marginalization of these communities breaks trust when governments do not co-design with them. This ultimately results in worse outcomes for already historically marginalized communities, such as higher eviction rates.
Create an ongoing, inclusive engagement process with the community and stakeholders to be involved and align their feedback with tangible action and iteration on application design and process (e.g., Reach out to get feedback directly from targeted community members, not advocates.)
Consider who has the current ability to participate in your ERA program and create ways to increase access and barrier bust.
Create culturally relevant solutions and service support for the application process.
Usability
ERA websites and applications should be easy to find and access. If an application is difficult to use, people will get discouraged to apply for assistance and are significantly more likely not to use it. Usability factors include:
How easy it is to pick up and self navigate
How quickly can they perform tasks
How easily can they re-enter an application and pick-up a task again
How many and what kinds of errors do users make due to the design
How enjoyable it is to use the design
Iterating on your program applications and websites
Guidelines for ERA program online applications

Learn how to design your online applications thoughtfully and intentionally to collect the information you need from the applicant.

Guidelines for ERA program websites

Learn how to develop your website to inform renters, landlords, and utility providers about the ERA program.