Across the country, Emergency Rental Assistance (ERA) grantees are identifying strategies to reach communities where residents were disproportionately affected by the COVID-19 pandemic. Providing language access resources to those with limited English proficiency is critical to cutting barriers to program access.1 Many ERA grantees are offering support in multiple languages to meet their specific community needs. Treasury has provided resources to grantees to help expand access to those with limited English proficiency.
As ERA1 ends and as ERA2 progresses, Treasury encourages all grantees to evaluate their outreach strategies to ensure that all tenants in need can access ERA funds. Grantees have made great strides through the life of the program to partner with community stakeholders and bring awareness and access for those in need. In addition to rental assistance, ERA can also offer a system of housing stability and eviction diversion services. Effective outreach can help tenants connect to these services, avoiding eviction and remaining stably housed.
FAQ 37 addresses promoting access to all eligible households:
"Grantees should address barriers that potentially eligible households may experience in accessing ERA programs, including by providing program documents in multiple languages, by enabling persons with disabilities to access the programs, and by conducting targeted outreach to populations with disproportionately high levels of unemployment or housing instability or that are low income."
Advantages to developing a comprehensive outreach strategy:
Increases awareness of and access to the ERA program.
Improves access for those with limited English proficiency.
Increased awareness and access results in decreased evictions and homelessness.
Increased access to both financial assistance and housing stability services.
Builds strong partnerships and networks that enable landlord engagement and eviction prevention efforts.
Builds long term infrastructure to provide comprehensive and tenant-focused services.
Improving access to the ERA program is vital to ensuring that financial assistance is distributed equitably and to all those in need.
Steps to Take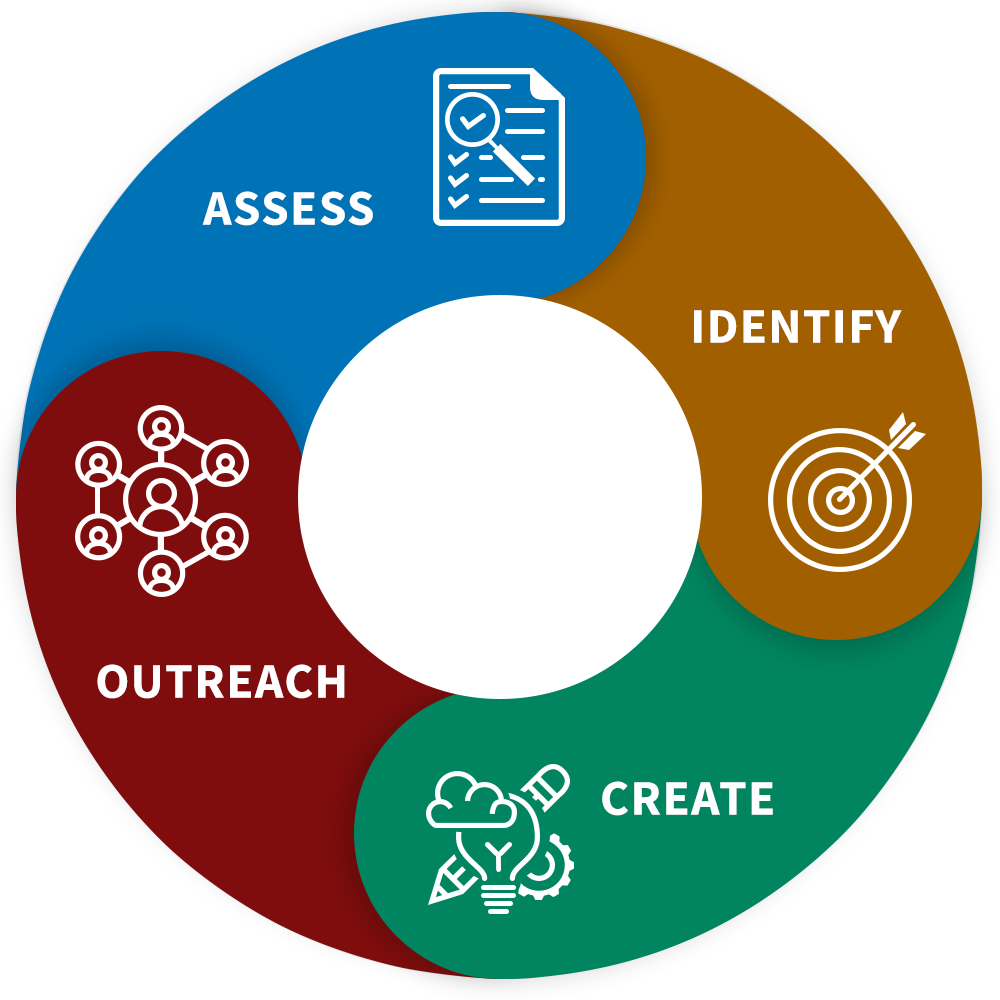 ASSESS geographic and cultural landscape of your community to determine needs
IDENTIFY targets
CREATE strategy
OUTREACH to identified targets according to your developed strategy.
Considerations
The following is a checklist to use as a guide in the evaluation of outreach strategy:
Assess
Have you completed a geographic analysis of where applications are coming from?

Why this is important

High need areas with little to no ERA participation may indicate lack of awareness of the program.

Have you integrated a plan to support for those with limited English proficiency (LEP) (see guidance provided by Treasury and the LEP Committee)?

Why this is important

Grantees must address the language needs of the limited English proficient (LEP) people they serve. Visit LEP.gov for more information.
Identify
Have you identified trusted community based organizations with high levels of cultural and linguistic competencies?

Why this is important

Community based organizations often have a deep understanding of the community they serve and are trusted by residents. Cultural and linguistic competencies ensures increased access to ERA in your community. This may also apply to trusted organizations that work with landlords and other key stakeholders.

Have you identified community partners that serve marginalized populations?

Why this is important

Partnerships are critical especially when working with immigrant populations, the elderly, domestic violence and human trafficking survivors, and other marginalized communities.

Have you partnered with your local government departments, such as homeless services, and relevant to providing supportive services to tenants?

Why this is important

Local government departments will have access to a variety of different listservs and information. It's also an opportunity to braid financial resources and services.

Have you contacted landlord associations?

Why this is important

Enables landlord engagement, and program visibility.
Create
Have you made your application accessible through multiple channels?

Why this is important

Application accessibility accounts for those with or without technology capability – online, in person, and over the phone.

Have you developed a marketing strategy with a diverse portfolio of channels to advertise ERA?

Why this is important

A variety of advertisements I.e. social media, tv, radio, newspaper, mailed postcards, etc., will ensure you are promoting awareness to those harder to reach.
Outreach
Have you hosted any events geared toward landlords?

Why this is important

Enables landlord engagement, promoting awareness of tenant resources available.

Have you advertised in public places?

Why this is important

Posting flyers in public places frequented by renters in the community, such as libraries and grocery stores, may reach those who cannot receive advertisements through radio, tv, or social media.
What's Next
Determine if your community has an established outreach strategy
Are there ways to evaluate your strategy for equity and effectiveness?
Are the right people, organizations, or community groups involved to execute your strategy?

Determine if the consideration checklist can be used in your community
Determine who uses the checklist and how often it is used to evaluate and adjust your strategy
Are there specific factors that might impact how the considerations are executed?
Are there other considerations that might bring increased success?
Examples of Using a Diverse Portfolio of Channels
State of Kansas
At program onset, Kansas established an extensive outreach strategy, hiring a marketing agency and working with an internal communications team. Combined efforts include press releases, presentations, social media, commercials, bus ads, billboards, and producing print and digital flyers for tenants and landlords. The communication team distributed flyers with community groups in online webinars, summer food programs, social service agencies, community partners, and libraries. The Executive Director of Kansas Housing Corporation, the ERA grantee for the state of Kansas, participated in podcasts and many community presentations over a several months to talk about the ERA program, providing awareness and access for all eligible households. They have a weekly dashboard that shows where applications are coming from, to identify target outreach areas.
State of Mississippi
The state of Mississippi started its outreach with a press conference held with local media stations as well as Facebook Live, then moving to traditional media methods including radio/tv, but soon realized that many did not have access to internet to complete the application process. It partnered with a marketing agency and nonprofits across the state to help make the online portal more accessible and help those who were not tech savvy apply. It held rental assistance fairs across the state, typically in high need areas, initially starting with 2 fairs a week, and then once a month. Its partner non-profit agencies held them whenever necessary to spread awareness and provide access to application materials. At fairs, tenants could complete a paper application, and the partners would walk them through the documentation needed, etc. The state also partnered with energy providers, and tenants could get access to their latest bills which was often a document they forgot at home yet needed to apply for assistance. Other large scale marketing campaign components included billboards, commercial advertising, and "how to" documents. This campaign outreach was two sided and targeted both landlords and tenants. These efforts were particularly helpful in increasing landlord engagement in the application process.
Hillsborough County, FL
Hillsborough County worked with its internal Communications Department to develop a comprehensive outreach strategy. In addition to regularly advertising through social media and news outlets, Hillsborough County also completed outreach to state representatives, as well as advertising at in-person and virtual county expos and town hall meetings. It reached out to previous rental assistance program recipients and sent them ERA information to promote reapplication opportunities as needed. It also had a local dollar store campaign where ERA information was printed on the back of customer receipts. With the University of South Florida in one of its service neighborhoods, it was a guest for several student radio shows to promote the program to students in need. To help mitigate eviction for tenants, Hillsborough County held webinars for landlords to provide education about ERA, in addition to partnering with nonprofits who went door to door in areas with high eviction rates.
Examples of Using Community Based Organizations
City of San Antonio, TX
The City of San Antonio, TX has been intentional in contracting with community organizations to reach target populations. It started contracting with a collaborative of local healthcare organizations, which in turn works with 20 nonprofit grassroots organizations who have deep ties to the community. For instance, one of these partners is an organization that provides various support services to domestic workers and has strong ties to the local Spanish-speaking community. Administrators have noted that nonprofits trained to conduct in-person outreach (while maintaining social distancing health standards) are particularly helpful partners, such as those who have contracted to do census outreach.
State of North Carolina
The State of North Carolina has noted that partnering with communities of trust is a critical part of its outreach efforts. These partners include networks of faith-based organizations in predominately African American communities, as well as coordination with school systems serving high need areas to help identify families who may be in crisis and in need of ERA program support.
Examples of Using Public Spaces
Lancaster County, NE
Lancaster County hired two outreach workers to travel into villages and townships deemed most vulnerable, and help residents apply for the ERA program. Some of their efforts included going into public places such as diners, craft sales, or even informal village gatherings. When summer arrived, outreach workers were able to spread ERA awareness by being present at fireworks stands in rural communities throughout the county. The outreach workers built trust event among landlords, by engaging public spaces, who eventually began to call the program themselves to advocate for their tenant before filing eviction.
Richland County, SC
Richland County has found strong partnerships opportunities with the county's thirteen libraries spread out across the county. In addition to providing convenient centers of support to residents, the library system also has a preexisting relationship with local social workers. This network has provided the ERA program administrators an opportunity to train the existing network professionals to educate residents about the ERA program. This effort has led to increased accessibility of professional and holistic support for households in need of ERA services, while also providing applicants to the free online access and other resources.
State of Illinois
The State of Illinois focused its program outreach efforts using grassroots networks and trusted local businesses. Outreach partners have included small grocery stores, laundromats, local faith-based organizations, and the Latino consulates, and have resulted in greater ERA visibility in the community and through culturally relevant media.
Examples of Partnerships that Serve Marginalized Communities
City of Boston, MA
The City of Boston's ERA program is administered by the Mayor's Office of Housing Stability offering application completion online, in person, and over the phone. Boston has completed tabling events at the local libraries and includes ERA information on the weekly Metrolist email that goes out to 27,000 recipients with information on the most recent affordable housing resources. With the capability to analyze application locations around the city, data concludes they have received applications from every neighborhood, and from a variety of demographics, which may be a good indicator that their efforts have provided equal access for all. Additionally, the program partners with agencies who focus on marginalized communities including the Asian American/Pacific Islander community.
Bering Straits Native Corporation, Alaska
The Bering Straits Regional Housing Authority (BSRHA) implemented the Emergency Rental Assistance (ERA) Program to target and assist the needs of the most venerable people of the region, by consistently evaluating the reach of the program it was able to adapt and provide for different populations in phases. With flexibility endorsed by its Commissioners, the ERA program at 3rd and 4th phases targeted the homeless population and included assisting tribal members who lived outside the regional jurisdiction. BSRHA ensured coordination with other ERA programs to avoid duplication by partnering and sharing information. It used the local newspaper and regional radio to advertise for the program and relied on tribal coordinators in each of the villages to spread awareness and provide education to their residents. At program onset, the ERA coordinator flew to a handful of villages to assist and ensure residents complete applications, as these villages are only accessible by boat or aircraft. BSRHA's program administrators consistently assessed their community and regional needs, evaluating and targeting different locations and populations as appropriate.
State of Maine
The State of Maine has translated its application and program materials into eight languages, and program administrators have found that building partnerships with cultural brokers are critical to engagement with local immigrant populations. For instance, partnerships with local organizations focused on Somali immigrants have helped the program identify more specific services that can help these households successfully navigate the ERA program while also providing a bridge to other relevant health and human services programs offered by the state.
---
1Languages spoken by an individual are considered a characteristic of their national origin and under Title VI of the Civil Rights Act, grantees must provide LEP persons meaningful access to the federally funded programs, services, and activities. Denial of access to a grantee's federally funded programs, services, and activities because of a person's LEP status is a form of national origin discrimination prohibited under Title VI of the Civil Rights Act of 1964 and Treasury's implementing regulations at 31 CFR Part 22.