A Republican and a former Wall Street banker, C. Douglas Dillon (1910 - 2003) was the "unrepentant Republican in the midst of Kennedy's Democratic cabinet" and the most influential member of President Kennedy's economic policy making team. He had previously served as Under Secretary of State for Economic Affairs under President Eisenhower, where he established the Organization for Economic Cooperation and Development.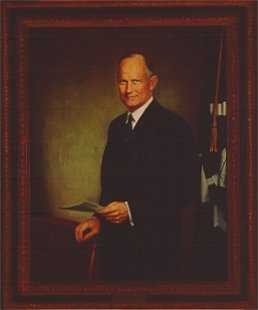 Sec. C. Douglas Dillon
Irving Resnikoff as 'Charles J. Fox'
Oil on canvas
1964
54 1/2 x 44 1/4 x 1 1/2"
P.1965.1
Respected for his keen mind which quickly discerned trouble spots in the economy, Dillon stressed that the United States had not been growing fast enough and that the Nation's most pressing problem was the trade deficit. Secretary Dillon devoted himself to alleviating the intractable trade deficit by controlling inflation and encouraging exports. He also concentrated on promoting the Kennedy tax program, which consisted of sweeping tax cuts intended to encourage economic growth. He was instrumental in convincing President Johnson, after Kennedy's death, to push the tax cut bill through the Senate, and it was passed by Congress with some alterations, in 1964. Dillon resigned the next year to return to private finance.
About the Artist
Charles J. Fox is a pseudonym for Leo Fox of New York City who made a business of soliciting commissions from leading figures of society, business, and government and furnishing portraits under his pseudonym signature. The portraits were actually painted by Irving Resnikoff (1897 - 1988), a Russian immigrant artist who executed the paintings from photographs. He had studied art at the Imperial Art Academy in St. Petersburg and immigrated to the United States in 1923. Resnikoff settled in New York City and began a career as a portrait painter, in association with Leo Fox. Phyllis Dillon, wife of the former Secretary, was so pleased with her husband's portrait that she recommended Fox to paint a portrait of John F. Kennedy. A 1965 letter to Fox from Ethel Kennedy expresses her satisfaction with a "Fox" portrait of her brother-in-law John, and also praises the Dillon portrait: "Your portrait of Secretary Dillon is so wonderful --- it just looks as though he is going to get right up from his chair and step over to impart some of the hearty warmth of his glowing personality."