Eisenhower appointed Robert B. Anderson (1910 - 1989), formerly President Eisenhower's Secretary of the Navy (1953 - 1954) and Deputy Secretary of Defense (1954 - 1955), Secretary of the Treasury in 1957. He was financially conservative, standing behind the Eisenhower Administration's desire to pare down the size of the Government and balance the budget in order to cut inflation and invigorate private enterprise. He believed that the Government could be run more efficiently by adopting the policies and practices of private business.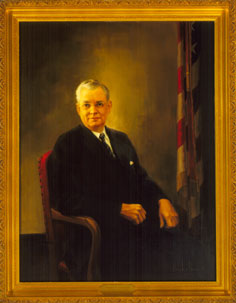 Sec. Robert B. Anderson
Nancy Lee Hersch
Oil on canvas
1960
54 x 62 1/4 x 2 1/2"
P.1960.1
Upon the retirement of Secretary of State John Foster Dulles in 1959, Anderson became the Cabinet "strongman." He fought for a reduction in the U.S. trade deficit, insisting that the Allies remove their quotas against the importation of American goods and assume a greater share of the cost of defending their territories. Though he left office in 1961 and returned to private business, Anderson remained an important economic advisor to Presidents John F. Kennedy and Lyndon B. Johnson.
About the Artist
Born in 1930, Nancy Lee Hersch studied at a number of professional art schools and is a graduate of the Abbot School of Art and Design in Washington, and holds a Master of Fine Arts degree in painting from The American University. Her portraits are represented in both public and private collections and are included in a number of prominent commissions within the Washington metropolitan area. She has exhibited nationally and abroad in both individual and group shows, using a variety of artistic mediums that include painting, printmaking and etching at both individual and group shows, nationally as well as abroad. Hersch's portrait of Robert B. Anderson was painted from life in 1960.