Samuel D. Ingham (1779 - 1869), a manufacturer and a long time member of the House of Representatives from Pennsylvania (1812 - 1818, 1822 - 1829), was appointed Secretary of the Treasury by President Andrew Jackson in 1829. The inauguration of Jackson coincided with the opening of an industrial expansion in the United States and was a symbol of a new government dedicated to the common man.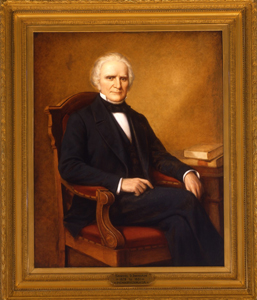 Sec. Samuel D. Ingham
Henry Ulke
Oil on canvas
1893
63 1/4 x 53 1/2 x 4 1/2"
P.1893.7
The Second Bank of the United States, viewed by Jackson and much of the Nation as an unconstitutional and dangerous monopoly, was Ingham's primary concern as Secretary. Jackson not only mistrusted the Second Bank of the United States, but all banks. He thought that there should be no currency but coin and that the Constitution was designed to expel paper currency as part of the monetary system. Ingham believed in the Bank and labored to resolve conflicts between Jackson, who wanted it destroyed, and the Bank's president, Nicholas Biddle. Ingham was unable to reach any resolution between Jackson and Biddle but he left office over an incident unrelated to the Bank. Unwilling to comply with Jackson's demand that Mrs. Eaton, the socially unacceptable wife of the Secretary of War, be invited to Washington social functions, Ingham and several other members of Jackson's Cabinet resigned.
About the Artist
Born in Germany and educated as a court painter in Berlin, Henry Ulke (1821 - 1910) came to New York in 1852 to work as a magazine illustrator and designer, as well as designing vignettes for bank notes. He established his reputation as a portrait painter in Washington, D.C., where he moved in 1860. At his photographic and painting studio on Pennsylvania Avenue, Ulke made portraits of many of the social and political notables of the day, including Treasury Secretaries Crawford, Taney, Bibb, Chase, and Carlisle. Ulke portraits are also in the collections of the Army, the White House, and the U.S. Capitol. His 1893 portrait of Samuel D. Ingham is copied from an 1855 life portrait of the Secretary by Martin J. Heade, now at the Mercer Museum in Doylestown, Pennsylvania.