Educated at Harvard and trained as a lawyer, Samuel Dexter (1761 - 1816) resigned his seat as Massachusetts Senator in June 1800 to accept the position of Secretary of War in the Cabinet of President John Adams. Upon Secretary of the Treasury Oliver Wolcott's resignation in December 1800, Adams appointed Dexter an interim Secretary to serve until the inauguration of Thomas Jefferson as President. Dexter served less than a year in Adams' Cabinet and has no great acts associated with his name. It has been said that "his temperament and intellectual endowment ill suited him for that minute diligence and attention to intricate details which the departments of War and Finance imposed on the incumbents of office.''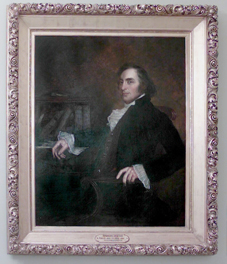 Sec. Samuel Dexter
Charles Harold L. MacDonald
Oil on canvas
1893
65 1/4 x 54 3/4 x 5 1/4"
P.1893.10
Shortly before the termination of Adams' Administration, the President offered Dexter a foreign embassy, but Dexter declined, remaining at the Treasury Department until Jefferson became President.
About the Artist
Born in Manitoc, Wisconsin in 1861, Charles Harold L. MacDonald (1861 - 1923) traveled as a young man to Paris to study painting with Gustave Boulanger and Jules Lefebre. He moved to Washington, D.C. in 1890 and began a portrait business, filling many commissions for the Federal Government. In addition to painting Samuel Dexter, MacDonald painted the Treasury Collection portraits of Secretaries Windham, Gresham, Gage, and Cortelyou. His portrait of Dexter, painted in 1893, is a copy of an early nineteenth century portrait from life by Gilbert Stuart.