Richard Rush (1780 - 1859) held several public offices in the administrations of presidents Madison and Monroe, including Comptroller at the Treasury Department, before being appointed Secretary of the Treasury by President John Quincy Adams in 1825. The Second Bank of the United States, chartered in 1816, still faced widespread opposition when Rush became Secretary. Rush defended the Bank and stated that in addition to being a secure depository for government funds, it afforded the necessary facilities for transferring the public monies from place to place.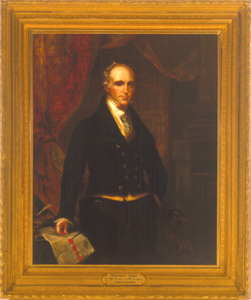 Sec. Richard Rush
Cornelia Adele Fassett
Oil on canvas
1890
63 1/4 x 53 1/4 x 4 3/4"
P.1880.2
Concerning trade, Rush was a protectionist. He advocated restrictive tariffs that would serve to increase the productivity of American manufacturers. He initiated improvements in the collection and publishing of commercial statistics in order to study the relation of tariff duties to trade. Rush resigned in 1829 at the conclusion of Adams' presidency.
About the Artist
Cornelia Adele Fassett (1831 - 1898) was born in Owasco, New York in 1831, moving later to New York City to study watercolor painting with J.B. Wandesforde, an English artist. She then spent three years in Paris and Rome studying under Giuseppe Castiglione, Henri Fantin-Latour, and Gabriel Mathieu. In 1875 she moved to Washington, D.C. where her husband, Samuel Montague Fassett, had accepted the position of photographer to the Supervising Architect of the Treasury. Perhaps her most famous painting is The Electoral Commission of 1877 which features more than two hundred portraits of Washington political figures and hangs in the U.S. Capitol. Fassett's portrait of Richard Rush, painted in 1880, is a copy of a Chester Harding painting executed from life sometime around 1825. The document in the painting is a commercial treaty with England negotiated in 1818 by Rush, then Minister to England, and Albert Gallatin, at that time Minister to France.