When Secretary of the Treasury Carter Glass (1866 - 1940) returned to the Senate in 1920, President Wilson appointed David F. Houston, his Secretary of Agriculture, to succeed him. Houston came to the Treasury as World War I ended and his brief tenure was marked by stormy controversies over federal monetary policies. As ex-officio Chairman of the Federal Reserve Board, he issued severe warnings and increased rediscount rates in order to prevent the inflation that the European Allies were experiencing. Houston predicted a fall in U.S. prices, particularly of farm products, after the optimism of the Armistice wore off. He pushed for easier credit for farmers and urged them to produce less.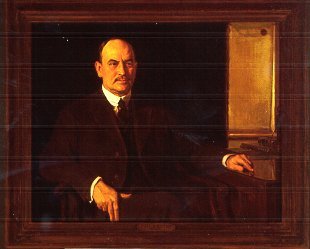 Sec. David F. Houston
Johan Waldemar de Rehling Quistgaard
Oil on canvas
1921
43 3/4 x 56 1/4 x 3 1/2"
P.1921.1
But when prices fell more dramatically than expected in 1920, Houston was unfairly accused by farm spokesmen of deliberately wrecking agrarian prosperity. Abroad, England and France were pushing to cancel their war debts. Houston, Congress, and the President instead converted the short-term debts to long-term loans. Houston resigned at the end of Wilson's term, after only a year in office.
About the Artist
The Danish born Johan Waldemar de Rehling Quistgaard (1877 - 1962) began his artistic career in 1909 when he was commissioned to portray the members of the Danish royal family. Quistgaard came to the United States at the invitation of Dupont Pratt of Standard Oil to paint sixteen miniature portraits of the Pratt family. He later made this country his home. In 1920 Christoffer Hannevig, founder of the American Portrait Foundation commissioned Quistgaard to paint portraits of fifty eminent Americans, which would be subsequently donated to Washington as the nucleus of a national portrait gallery. His portrait of David F. Houston was painted from life in 1921. Quistgaard also made a copy of this portrait for the Department of Agriculture, where Houston served as Secretary from 1911 to 1920.