Paul H. O'Neill (b.1935) was appointed the 72nd Secretary of the Treasury Department in 2001 by President George W. Bush. O'Neill started his career in government service under President Kennedy and continued working under Presidents Johnson, Nixon and Ford. Under the former administrations he acted as a computer systems analyst from 1961-1967 (Ford) in the U.S. Veterans Administration and as staff member/Deputy Director of the Office Management and Budget (OMB) from 1967-1977. After working with the OMB he left the Government in order to pursue business interests in the private sector. Secretary O'Neill came to the Treasury Department with several years of experience as the Chairman and CEO of aluminum giant Alcoa. During this time O'Neill managed a corporation of more than 140,000 employees world wide.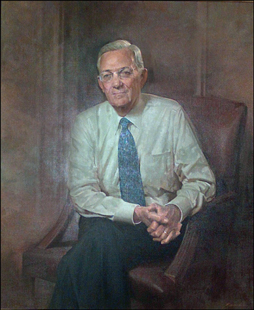 Sec Paul H. O'Neill
John Howard Sanden
Oil on canvas
2003
57 1/2 x 51 1/16 x 3"
P.2004.2
Months after O'Neill was appointed Treasury Secretary, the country faced the most horrific terrorist attacks in its history, 9/11 (September 11, 2001). The events surrounding 9/11 precipitated a sudden downturn in U.S. economic growth, closely tied to economic uncertainty worldwide. Secretary O'Neill helped restore confidence in the economy by vowing to eliminate the funding source of terrorist attacks which continually threatened America's peace and prosperity.
Through his Treasury tenure, Secretary O'Neill utilized the Department's resources to fight terrorist financing. He worked personally and closely with Middle Eastern countries in order to stop money laundering and fraud in charitable organizations. He was also instrumental in setting up a special task force within the Department whose avowed purpose was to combat terrorist finance. This initiative ultimately led to the creation of the Office of Terrorism and Financial Intelligence.
In addition to the fight against terrorism, Secretary O'Neill was an outspoken critic on the complexity of the Nation's tax code. He believed the code's complexity was inhibiting personal as well as corporate growth in America and became one of the Administration's leading advocates for its change.
As a testament to Secretary O'Neill's work ethic and dedication to public service, he has been awarded many honorary doctorates over the years from various universities. He has also served on a wide variety of committees including the American Red Cross, Committee for Economic Development, Joint Council on Economic Education, Institute for International Economics, and National Leadership Commission on Health Care.
Secretary Paul H. O'Neill resigned from the Treasury Department on December 6, 2002.
About the Artist
John Howard Sanden was born in Austin, Texas, in 1935. After graduating from the Minneapolis School of Art, he embarked on a highly successful career as an illustrator for leading magazines and book publishers. He later decided to concentrate on portraiture and has since become one of America's important portrait artists. Mr. Sanden is a member of the faculty of the Arts Students League of New York. He has also organized and hosted many portrait seminars, attracting the Nation's "up and coming" portrait artists. Mr. Sanden is the author of Painting the Head in Oils, published by Watson-Guptill.