Although Franklin MacVeagh (1837 - 1934) had been a director of the Commercial National Bank of Chicago for twenty-nine years when President William Howard Taft asked him to be Secretary of the Treasury in 1909, he was a man with little real banking experience. He did not tackle the pressing problem of currency reform, leaving it to the National Monetary Commission, which had been established by the Aldrich-Vreeland Act of 1907 to study the issue. He did, however, stress the urgency of reform in his Annual Report: "Taking large sums of actual money out of ordinary financial uses and locking them up as a dead mass in the vaults of the Treasury is ... unscientific and unreasoned."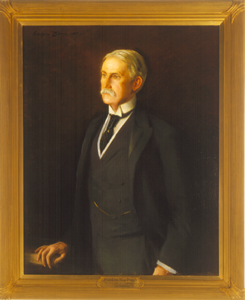 Sec. Franklin MacVeagh
Adolphe Borie
Oil on canvas
1910
54 1/2 x 44 1/2 x 3"
P.1909.1
What he contributed to the Administration was a businesslike management of the Treasury Department and a spark of progressiveness in an otherwise conservative Cabinet. The era was marked by efforts to modernize the Federal Government and MacVeagh promoted efficiency and economy within the Treasury Department. In 1909 MacVeagh commissioned the architectural firm of York and Sawyer to study the Department's efficiency, which resulted in a physical rearrangement of offices and an increase in the security of the Main Treasury Building in Washington. He abolished 450 unnecessary positions, rehabilitated the Customs Service with the introduction of electric automatic weighing devices and accepted certified checks instead of currency for Customs and Internal Revenue payments. MacVeagh resigned at the end of Taft's term.
About the Artist
Born in Philadelphia in 1877, Adolphe Borie (1877 - 1934) spent most of his life in that city. He studied art at the Pennsylvania Academy of Fine Arts under William Merritt Chase and Thomas Anshutz and later in Munich under Carl Marr. Upon his return from Munich, Borie exhibited portraits and received immediate recognition; commissions came readily for the rest of his life. He was a member of the National Society of Portrait Painters and an Academician of the National Academy of Design. In 1918, after the entrance of the United States into World War I, Borie produced portraits in various media, which were offered in return for subscriptions to the last Liberty Loan. His portrait of Franklin MacVeagh was painted from life in 1910, while MacVeagh was Secretary of the Treasury.