In the Senate, where he served from 1807 to 1813, William H. Crawford (1772 - 1834) distinguished himself as an advocate of conservative public finance, promoting an extension of the charter of the First Bank of the United States in 1811.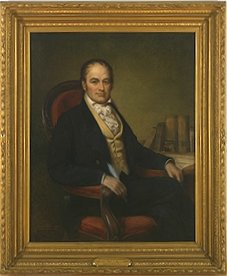 Sec. William H. Crawford
Henry Ulke
Oil on canvas
1879
63 1/4 x 53 1/4 x 4 3/4"
P.1880.10
President Madison appointed him Secretary of the Treasury as the Second Bank of the United States was established, and he continued under President James Monroe. Crawford took over a Department still in fiscal confusion resulting from the poorly financed War of 1812.
With the goal of organizing the Nation's bookkeeping, he initiated the Reform Bill of 1817, which charged with the Treasury Department with the responsibility for settling the financial accounts of all the Federal Departments. The structure of the Treasury Department was subsequently altered to accommodate its increased duties. During his Secretary tenure, Crawford also oversaw extensive improvements to the Nation's infrastructure, including the initiation of coastal fortifications and the construction of the great westward leading Cumberland Road. In 1825 Crawford refused President John Quincy Adams' offer to continue as Secretary, citing important differences in their views, and resigned at the end of Monroe's term.
About the Artist
Henry Ulke (1821 - 1910) was born in Frankenstein, Germany in 1821 and received his early art education with Professor Wach, the court painter at Berlin. Ulke immigrated to New York in 1852 where he worked as an illustrator and designer on such magazines as Harper's and Leslie's Weeklies. He moved to Washington, D.C. in 1860 and set up a studio for photography and painting at 434 Pennsylvania Avenue, soon attaining such a favorable reputation in political circles that he was titled "Painter of the Presidents." His portrait of William Crawford, executed in 1879, was based on previous life portraits of the Secretary by Asher B. Durand and John Wesley Jarvis.