The former chairman of the New York investment banking firm of Dillon, Read & Co. Inc., Nicholas F. Brady (b.1930) was appointed Secretary of the Treasury by President Reagan in 1988, and he continued in office throughout the Administration of President Bush. During his tenure, Secretary Brady successfully resolved two severe economic crises that confronted the world financial markets. Internationally the Brady Plan to defuse the $1.3 trillion Third World debt crisis was a catalyst for economic and political reform in Latin America.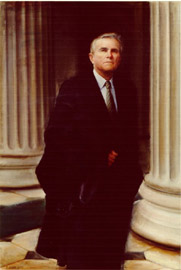 Sec. Nicholas F. Brady
Ronald Sherr
Oil on canvas
1993
72 1/8 x 52 7/8 x 2 1/2"
P.1994.1
The collapse of the Savings and Loan industry was an unparalleled financial crisis that threatened the stability of the entire American financial system. Brady restored health and public faith in that system. Building upon this successful experience, he proposed the most comprehensive reforms of the American banking system since the 1930's. A tireless advocate for the free market, Secretary Brady supported prudent fiscal policies at home and open markets abroad as a way of ensuring sustainable prosperity for all in an increasingly global economy. He fought to restrain Government spending while creating incentives for private saving and investment. He strongly advocated international free trade agreements and was an early supporter of measures designed to facilitate the integration of the emerging economies of Eastern Europe and the former Soviet Union into the world market. Nicholas Brady resigned as Secretary of the Treasury on January 17, 1993.
About the Artist
New York artist Ronald Sherr was born in Plainfield, New Jersey in 1952, and studied in his native state at the Ducret School of Art and at the National Academy of Design in New York. He has been characterized by Princeton art history professor John Wilmerding as "a master of the realist tradition...he knows the customs, but he's not a slave to them." Sherr has taught at the Art Students League in New York and received the 1991 Hubbard Art Award for excellence in American representational and realistic art. Sherr's portrait of Nicholas Brady was painted in the artist's New York studio in 1993.