Former Chief of Staff under President Reagan, James Baker, III (b.1930) was appointed as the sixty-seventh Secretary of the Treasury on February 3, 1985, exchanging jobs with Secretary Donald Regan. A lawyer by training, he practiced law in Houston with the firm of Andrews & Kurth for more than twenty years. His introduction to Washington came when President Ford appointed him Under Secretary of Commerce. Considered a savvy political strategist, he also served on President Ford's campaign staff as Deputy Chairman for Delegate Operations and four months later as the National Chairman of the President Ford Committee.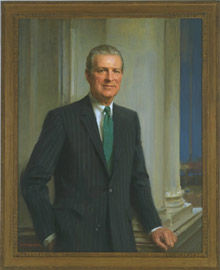 Sec. James A. Baker, III
Everett Raymond Kinstler
Oil on canvas
1991
57 3/4 x 47 1/2 x 2"
P.1991.1
From January 1979 to May 1980 he served as National Chairman of the George Bush for President Committee. During his tenure as Treasury Secretary, Baker is credited with guiding a major tax reform bill through Congress in 1986. His efforts in encouraging international economic cooperation by lowering the value of the dollar encouraged the sale of American products abroad. He was described as "the guy who rose to the challenge of international policy coordination" because of his efforts to encourage economic cooperation between the United States, Canada, Western Europe, and Japan. Secretary Baker resigned on August 17, 1988 to become Chairman of the Bush campaign and in 1989 became Secretary of State.
About the Artist
Everett Raymond Kinstler studied at the Art Student League in New York. He began his professional art career by illustrating such characters as "The Shadow" and "Hopalong Cassidy." He has maintained a home and studio in the National Arts Club on Gramercy Park for more than thirty years. Kinstler paints his portraits from sittings and from photographs that he takes himself so that he captures the pose and expression that will be depicted in the portrait. This portrait of Baker was painted during four sittings which took place at the State Department. Kinstler remembered that it was not unusual for the sittings with Baker to be canceled at the last minute because of Baker's involvement with the Persian Gulf War. In addition to having painted President Ford's portrait, Kinstler painted the official White House portrait of Ronald Reagan.