President Jackson, searching for a Secretary who would do his bidding, appointed William J. Duane (1780 - 1865) Secretary of the Treasury in May 1833 after the shift of Secretary Louis McLane to the State Department. Jackson hoped that he could persuade Duane to withdraw the Government's deposits from the Second Bank of the United States, which McLane had refused to do. Duane was opposed to the Bank in principle and felt that it was unconstitutional and monopolistic, but he recognized that the sudden removal of the Government's funds from the Bank would cause a panic affecting the farmer and the common man which would "plunge the fiscal concerns of the country into chaos.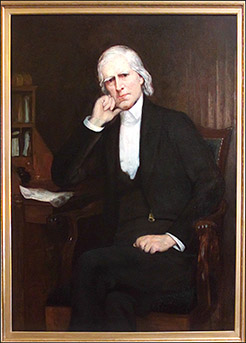 Sec. William J. Duane
Richard Norris Brooke
Oil on canvas
1893 circa
65 1/4 x 55 1/4 x 4 3/4"
P.1893.6
Duane also maintained that he had no right to withdraw the funds without the consent of Congress, which had, in its previous session, declared the Bank safe for Government deposits. Jackson enlisted the help of his Attorney General, Roger B. Taney, to present his argument for the withdrawal of funds to the entire Cabinet. Duane still refused to take any action without the consent of Congress, and Jackson dismissed him after only four months of service, declaring, "He is either the weakest mortal, or the most strange composition I have ever met with."
About the Artist
Born in Warrenton, Virginia in 1847, Richard Norris Brooke (1847 - 1920) began his art studies at the Pennsylvania Academy of Fine Arts under Edmund Bonsell and James Reid Lambdin. In 1869 he competed for and won the Chair of Fine Arts at the Virginia Military Institute in Lexington, Virginia, leaving that post in 1872 to accept an appointment as U.S. Consul at La Rochelle, France. Before leaving France, Brooke spent three years studying in Paris with Leon Bonnat, who was best known for his portraiture. Brooke returned to the United States in 1879 and settled permanently in Washington, D.C. An active member of the Washington art world, he was commissioned to paint many portraits, both from life and from previous paintings. His portrait of William J. Duane is a copy based on an as yet unidentified earlier painting or engraving.