Upon the recommendation of Treasury Secretary Andrew W. Mellon, President Coolidge appointed Ogden L. Mills (1884 - 1937) Under Secretary of the Treasury in 1927. Much of the responsibility for representing the Treasury Department before Congress fell to Mills. He continued as Under Secretary in President Hoover's Administration, during which the dominant issues were the post World War I reconstruction of Europe and the German American Debt Funding Agreement (1930). This Agreement arranged German payment to the United States for costs suffered by the American military and citizens during World War I.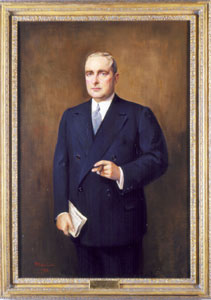 Sec. Ogden L. Mills
Pilides Costa
Oil on canvas
1933
60 x 42 3/4 x 2 1/2"
P.1932.1
Toward the end of his term Secretary Mellon spent much of his time overseas, and President Hoover grew to rely greatly on Mills, who served as Acting Secretary during Mellon's absence. Hoover promoted Mills to Secretary when Mellon vacated the position in 1932. As Secretary, Mills continued the policies of his predecessor, recommending a drastic reduction in Government spending and a tax increase in order to balance the budget by 1934. Congress also imposed a general manufacturer's excise tax but neither of these policies helped alleviate the Depression. Mills resigned at the end of Hoover's term in 1933.
About the Artist
Pilides Costa (1891 - 1947) is reported to have been born in 1892 in the region of the Black Sea to Greek parents. Very little is known of his professional development, though he did exhibit at the Paris Salons of 1922 and 1933. Costa served in the French Foreign Legion and was encouraged by Herbert Hoover, whose official Presidential portrait he painted in 1930, to come to the United States to paint portraits. His portraits of Hoover hang in the White House and in the Herbert Hoover Presidential Library in West Branch, Iowa. Costa painted Ogden L. Mills, Secretary of the Treasury under Hoover, from life in 1933.