Formerly chief executive officer at the investment firm of Merrill Lynch, Donald.T. Regan (1918 - 2003) was appointed Secretary of the Treasury by President Ronald Reagan in 1981 and became the champion of Reagan's plan to cut taxes in order to stimulate investment. The Economic Recovery Act of 1981 introduced sweeping tax cuts which especially affected big business. An undeviating champion of free enterprise, deregulation, and competition in American industry, Regan declared, "If you're going to be a capitalist, you have to believe in a free market economy."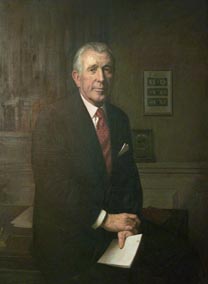 Sec. Donald T. Regan
Herbert E. Abrams
Oil on canvas
1986
55 1/2 x 43 1/2 x 2 3/4"
P.1986.1
The final result of the Reagan Administration's revolutionary tax legislation was a twenty-five-percent reduction in Federal income taxes. "The more I examine supply side economics, the more I find I've always been on this side. But I thought it was just old fashioned conservatism," he commented. Regan resigned in 1984 to become President Reagan's Chief of Staff.
About the Artist
Herbert E. Abrams (1921 - 2003) was born in Greenfield, Massachusetts in 1921 and studied art in New York at the Pratt Institute and the Art Students League. During World War II he served as a camouflage expert for the Army Air Force and designed the present Air Force aircraft insignia. As a portraitist, he was especially known for his depictions of prominent industrialists, famed military figures, and children. His portrait of Donald T. Regan was painted in 1986 in Regan's White House office after he had left the Treasury Department. The only request Regan made at the final sitting was that Abrams include presidential cufflinks, which Regan said were his trademark. He later presented Abrams with a pair of the same.