John W. Snyder (1895 - 1985) came to Washington in the early 1930's with a broad background in banking and business. He held several public and private positions including National Bank Receiver in the Office of the Comptroller of the Currency, Federal Loan Administrator, and Director of War Mobilization and Reconversion. In the last office he played a leading part in the transition of the Nation's economy from wartime to a peacetime basis.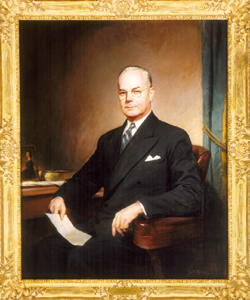 Sec. John W. Snyder
Martha Greta Kempton
Oil on canvas
1947
57 3/4 x 48 x 2 3/4"
P.1948.1
Snyder was appointed Secretary of the Treasury in 1946 by his close personal friend President Truman, with whom he had served in World War I. His task as Secretary was to establish a stable postwar economy. The main points of his program were maintaining confidence in the credit of the Government, reducing the federal debt, and encouraging public thrift through investment in U.S. Savings Bonds. He also developed programs to promote greater efficiency within the Treasury Department, including a streamlining of the Internal Revenue Service, which assured a more impartial administration of tax laws, and a reform of the federal accounting system. Snyder resigned at the end Truman's term.
About the Artist
Born in Vienna in 1903, Martha Greta Kempton (1901 - 1991) moved to the United States in the early 1920's. Working in Lynchburg, Virginia in the early 1940's, she met Virginia Senator Carter Glass, a former Treasury Secretary, which led to her entree into official Washington circles. Glass introduced her to then Secretary of the Treasury John Snyder, for whom she painted a portrait of his daughter Drucie. Snyder was so pleased with the portrait that he commissioned one of himself and became Kempton's promoter within the Truman Administration. Kempton eventually painted more than two dozen portraits of Truman administration officials and members of their families. She painted a total of seven portraits of Snyder, this one from life in 1947. The small image on the desk in Snyder's portrait is a copy of Kempton's portrait of Drucie, who proudly proclaimed that she was the only woman who had her portrait hanging in the Treasury Building.