President Zachary Taylor, wanting a Pennsylvanian Whig for his Cabinet, appointed William M. Meredith (1799 - 1873) Secretary of the Treasury. Meredith strongly opposed the free-trade legislation passed the year before under his predecessor, Robert J. Walker. He felt that there was a need to protect the American workman, who was subject to competition from poorly paid European labor. Meredith's principal contribution in office was his Annual Report of 1849 in which he set forth an elaborate argument for a protective tariff.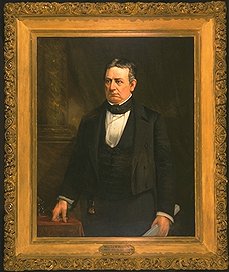 Sec. William M. Meredith
S. Jerome Uhl
Oil on canvas
1893
65 1/2 x 55 x 4 7/8"
P.1893.11
The increase in the public debt due to the recent war with Mexico (1846-1848) and the acquisition of California gave Meredith additional arguments for raising revenue through higher import duties, but no action was taken on the tariff during Meredith's term. Because the Coast Survey had seen great expansion and improvement with the introduction of steam powered ships, he also recommended a revision of the Coast Survey Code, which had not been changed since its implementation in 1806. Meredith resigned with the rest of the Cabinet upon Taylor's death in 1850.
About the Artist
Born in Millersburg, Ohio in 1842, S. Jerome Uhl (1854 - 1904) traveled to Paris to study art with Augusta Emile, Carolus- Duran, and Pierre Puvis de Chavannes. His works attracted wide attention when he exhibited at the Paris salons of the 1880's. Returning to Springfield, Ohio, Uhl became a popular portrait painter, and he is represented in many private and public collections throughout that state. In the early 1890's he opened a studio in Washington, D.C. where he painted many notables. Uhl was a member of the Society of Washington Artists and the Washington Water Color Club. His portrait of William M. Meredith, painted in 1893, is based on a Matthew Brady daguerreotype.